Making a Difference: Worker with disabilities sorts batteries to be safely recycled
One bucket at a time, Jeff Bailey separates hazardous materials from household batteries.
Published: Nov. 25, 2020 at 4:53 PM CST
|
Updated: Nov. 25, 2020 at 8:25 PM CST
MADISON, Wis. (WMTV) - At the Badger Road Recycling Center, you'll find Jeff Bailey hard at work. Listening to polka music, Bailey sorts through buckets of household batteries by hand.
"It's simple but meaningful work that we can have Jeff help us out with," said Bryan Johnson, the Recycling Coordinator for the City of Madison.
Five years ago, Bailey started his job sifting through tons of batteries to remove toxic material like screws, nails, and even razor blades.
Johnson says often times people dump their entire junk drawers into the buckets were batteries are dropped off to be recycled.
"Without this step, we can't recycle these things," said Johnson. "This wouldn't work without Jeff here."
Bailey also takes special care with the lithium batteries, which have to be taped so that they don't rub together and start a flame.
"I'm trying to be safe," said Bailey. "You put some tape on so that when you put them in the buckets they don't touch each other."
Bailey is a supported worker with disabilities, who got this job through the Community Work Services program.
"At first I didn't know anything," admitted Bailey. "It took me awhile to really get to know everything."
Bailey said he's grateful for his job this year.
"I think being out in the community and working with people," said Bailey.
Johnson says he hopes that the next time people drop off batteries to be recycled, they look up the requirements on the website before tossing in a random assortment.
"It makes Jeff's job way easier and safer," said Johnson. "I hope when you think of battery recycling, you think of Jeff having to sort all of this by hand."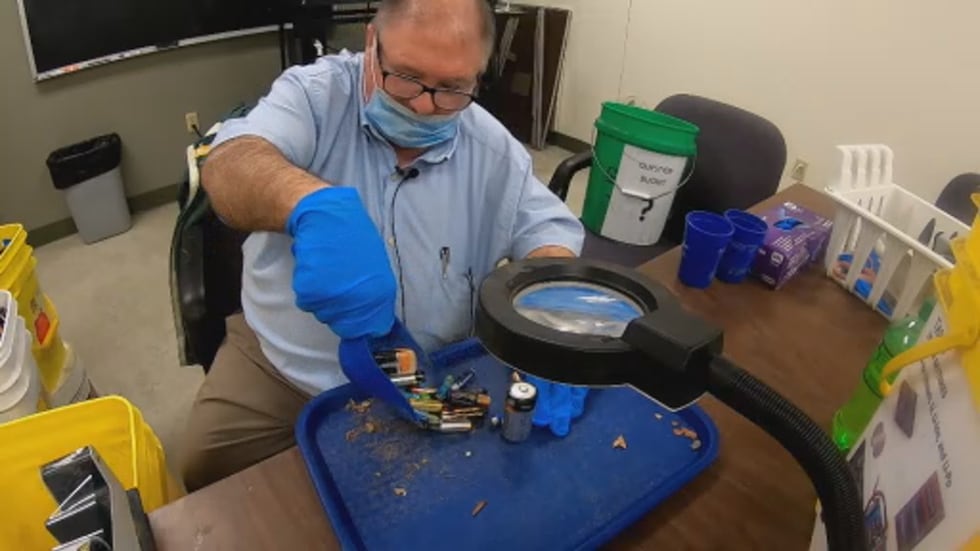 Copyright 2020 WMTV. All rights reserved.