Halderson son charged with homicide for father's death, additional unidentified remains found
Published: Jul. 15, 2021 at 1:51 PM CDT
|
Updated: Jul. 15, 2021 at 10:31 PM CDT
MADISON, Wis. (WMTV) - Chandler Halderson has officially been charged with first-degree intentional homicide Thursday in the death of his father, Bart Halderson, as unidentified human remains were also found the day before.
Chandler Halderson faces additional charges of hiding and mutilating a corpse as well as giving false information on a kidnapped or missing person.
According to a criminal complaint, authorities found a "portion of unidentified human remains" on Wednesday near Old Hwy 60 along the Wisconsin River, a Department of Natural Resources property, near the Town of Roxbury. A witness allegedly saw a person matching Chandler's description in the area on July 10.
The sheriff's office noted unidentified human remains, later identified as Bart Halderson, were found on July 8 in rural Cottage Grove.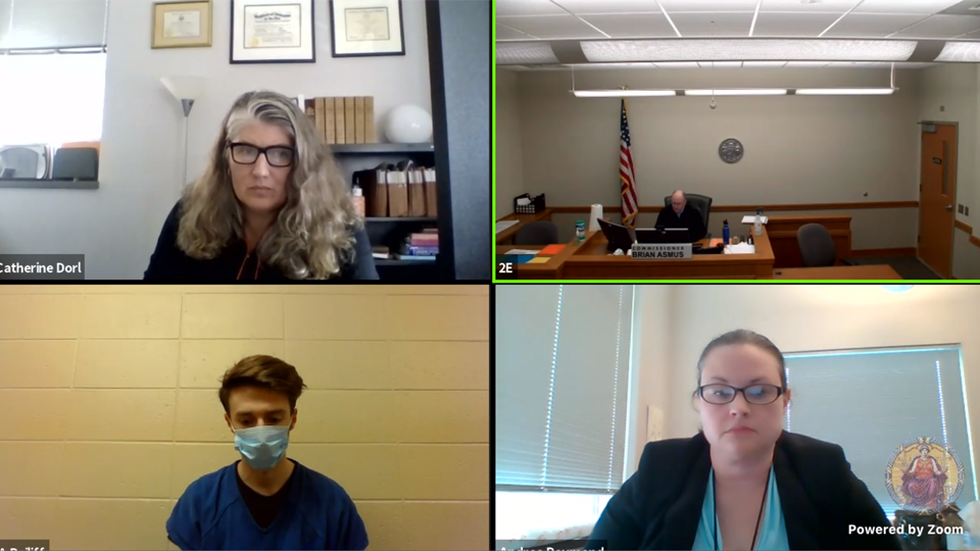 During a Thursday afternoon court appearance, prosecutors indicated they expect more charges to be filed in the future.
Court Commissioner Brian Asmus set bail at $1 million after arguments by prosecutors and Halderson's attorney.
Defense attorney Catherine Dorl told Asmus her client is a lifelong resident of Wisconsin, has been involved in the Boy Scouts and church groups, and has no prior criminal history. She had asked that bail be continued at $10,000.
Law enforcement considered Bart a missing person for several days, starting on July 7. That's when he and his wife Krista were reported missing.
After speaking with several witnesses, the Dane County Sheriff's Office located Bart Halderson's remains in rural Dane County July 9. Krista Halderson is still considered a missing person at this time.
The couple was reportedly last seen on July 1, according to the Dane County Sheriff's Office. Twenty-three-year-old Chandler Halderson was previously arrested Thursday on a charge of giving deputies false information in the missing persons case.
The Criminal Complaint
On Thursday, the District Attorney's office released a 14-page document detailing the investigation into the murder of Bart Halderson.
It contains several interviews with Chandler Halderson, friends, family and witnesses. The complaint does not specify when and where Bart Halderson was killed, but it does place Chandler at the site where Bart's remains were discovered.
According to the complaint, a family friend greeted Halderson when he arrived on her rural property on July 8th in Cottage Grove, where Bart Halderson's remains were eventually located. The friend asked Halderson if he was OK, and he said he was not OK, and that he was having problems reading words and numbers.
The statement goes on to say Halderson asked to use the pool, the friend said yes, and observed Halderson was gone somewhere between 1-1.5 hours and when he returned, the friend told authorities Halderson was not wet and the pool cover was still intact.
The friend also observed Halderson walking around to a shed nearby on the property, where she could not see what Halderson was doing. She told authorities after that, Halderson took a dip in the pool and "[appeared] to be washing off."
According to the document, investigators spoke with a friend of Chandler's, who says he brought Halderson a gun and ammunition on June 12.
During a search of the Halderson home, investigators found casings that would have fired properly from the type of gun Chandler Halderson had obtained from that friend. The complaint does not go into details about the whereabouts of that firearm, or if it has been recovered.
According to the complaint, Halderson went door-to-door and asked to look at home surveillance video from neighbors. An NBC15 News reporter interviewed Halderson on July 8; the day after Bart and Krista Halderson were reported missing, and before Chandler Halderson was arrested.
While in the neighborhood, the reporter saw Halderson doing precisely that, and told the reporter he wanted to see if he could catch a glimpse of his parents leaving the house.
The complaint says Halderson asked at least one neighbor for surveillance video and asked if the camera captured the road or his house.
The document also continually comes back to a foot injury Halderson had bandaged up. His story is inconsistent, Halderson says it is from shattered glass from a coffee table in the living room.
During his court appearance today for his most recent criminal charges. The court commissioner set Halderson's bail at $1 million.
Statement from Bay Lakes Council
During Halderson's first court appearance on Monday, NBC15 found out he was an Eagle Scout in the area of Plymouth, Wisconsin.
The NBC15 newsroom contacted the Boy Scouts of America Bay Lakes Council in Appleton and spoke with Scout Exec. Ralph Voekler over the phone about this case.
Voekler says the community is "shocked to learn about these allegations," and that Halderson is now prohibited from any more scouting activities.
Copyright 2021 WMTV. All rights reserved.