Rodgers remains undecided on future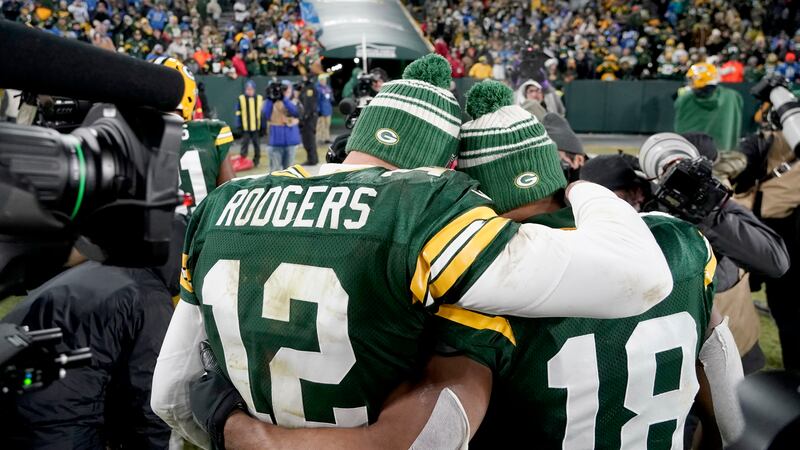 Published: Jan. 9, 2023 at 4:18 AM CST
GREEN BAY, Wis. (WSAW) - The future of Aaron Rodgers is in question...again.
The quarterback remained undecided on his NFL career after the Packers loss to the Lions, ending the Packers playoff hopes. Rodgers mentioned many possibilities, which include remaining with the Packers, retiring or playing with another NFL team.
"Do I feel like I have anything left to prove to myself? Do I want to go back and gear up for another grind or is it time," Rodgers said. "Is it time to step away for another voice to be leading this team?"
The four-time MVP was seen walking out with his arm around Randall Cobb, who is also contemplating retirement. He acknowledged the possibility that it could be his last time walking off Lambeau Field as a player.
"At some point the carousel comes to a stop and it's time to get off and I think you kind of know when that is and that's what needs to be contemplated," Rodgers said.
Rodgers' performance undoubtedly took a dip this season after back-to-back MVP's. His 12 interceptions are the most in a single season since his rookie year, and the passing yards are the lowest total of any full season without injury in his career.
Still, he and Matt LaFleur believe he can play at a high level.
"I'm going to take the emotion out of it, and have conversations and see where the organizations at and see where I feel after time has passed." Rodgers said.
The waiting game is here. But when the quarterback was asked what he will miss the most about the game, he responded with, "I'll miss the guys, I'll miss the fans. Thank you."
Rodgers was also hesitant to assume the organization wanted him back. Matt LaFleur said he wasn't sure what the future looks like.
Copyright 2023 WSAW. All rights reserved.