Kelly's work for anti-abortion group issue in Wisconsin court race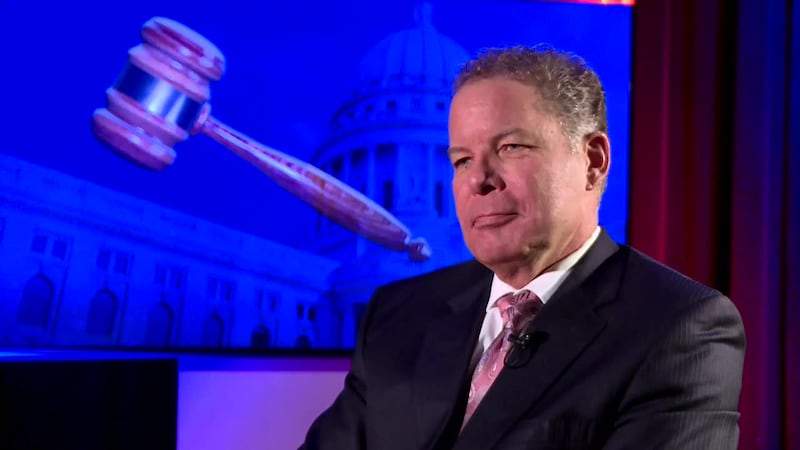 Published: Feb. 27, 2023 at 4:04 PM CST
MADISON, Wis. (AP) — The Republican-backed candidate for the Wisconsin Supreme Court provided legal advice to one of the state's leading anti-abortion groups, work that Wisconsin Right to Life and Dan Kelly have not detailed but that is being used against Kelly by his liberal opponent.
The high-stakes race, expected to shatter national spending records, will determine majority control of the court and likely the fate of abortion access in the state.
With the state Supreme Court likely to hear a challenge to Wisconsin's 1849 ban on abortions at any stage of pregnancy, the candidates' positions have become a central focus of the race. National groups are promising to spend big before the April 4 election.
Kelly is endorsed by the state's three top anti-abortion groups, including Wisconsin Right to Life. Democratic-backed candidate Janet Protasiewicz has run as a vocal supporter of abortion rights, something Kelly says goes too far in showing how she might rule on an existing lawsuit.
Protasiewicz, a Milwaukee County circuit judge, went after Kelly on abortion in one of her first ads after the two of them advanced from a four-candidate primary last week. In the spot, Protasiewicz labels Kelly as too extreme, claiming, "For years, Kelly was on the payroll of a radical anti-abortion group working to take away women's rights."
The ad references a 2016 letter of recommendation from Heather Weininger, the executive director of Wisconsin Right to Life. The letter came when Kelly applied for an appointment to the Wisconsin Supreme Court.
"Dan Kelly is someone who I have known professionally for many years and who has provided great counsel to Wisconsin Right to Life in legal manners, as well as to a previous employer of mine, and has done great work with the Federalist Society in Wisconsin," Weininger wrote.
Weininger and Kelly's campaign spokesperson, Chad Doran, did not respond to emails Monday asking what work Kelly did for the group.
Wisconsin Right to Life's legislative and political action committee director, Gracie Skogman, said in an email that Kelly "has never been on Wisconsin Right to Life's payroll, as mentioned in that ad" but did not respond to emails seeking additional details about what work he did.
Kelly was appointed to the state Supreme Court in 2016 and served until 2020, when he lost a bid for a full 10-year term. His endorsement by Wisconsin Right to Life was raised in that campaign as well, but it did not get as much attention then.
Neither Kelly nor Protasiewicz has said exactly how they would rule when the challenge to Wisconsin's abortion ban comes to the court. But both have given clear signals about where they stand.
Kelly has expressed opposition to abortion in the past, including in a 2012 blog post in which he said the Democratic Party and the National Organization for Women were committed to normalizing the taking of human life.
In addition to Wisconsin Right to Life, Kelly is also endorsed by Wisconsin Family Action and Pro-Life Wisconsin.
Pro-Life Wisconsin only endorses candidates "who recognize the personhood of the preborn baby and hold the principled and compassionate no-exceptions pro-life position." The Wisconsin Right to Life Political Action Committee said when it announced its backing of Kelly that it only endorses candidates "who have pledged to champion pro-life values and stand with Wisconsin Right to Life's legislative strategy."
Protasiewicz is backed by EMILY's List, a national group that seeks to elect women who support abortion rights.
Protasiewicz (pronounced pro-tuh-SAY-witz) has emphasized her support for abortion rights in the campaign, saying "reproductive rights" is at stake. She has said she's voicing her values, not how she would rule on a particular case. Republicans claim she has violated the Wisconsin Code of Judicial Conduct, which prohibits candidates from pledging how they would rule on specific cases.
Protasiewicz and her backers, including the Wisconsin Democratic Party, see abortion as a winning issue coming off the 2022 midterm election where Democratic candidates, such as Gov. Tony Evers, who ran on the issue performed well.
A Marquette University Law School poll from November showed that only 37% of respondents supported the U.S. Supreme Court's decision overthrowing Roe v. Wade, which legalized abortions. That same poll showed 84% support exceptions for rape and incest. Those exceptions are not included in the state's current law, which was enacted a year after statehood.
Copyright 2023 The Associated Press. All rights reserved.