Flags fly at half-staff Saturday and Sunday
Saturday's order honors pilot killed in WWII and Sunday's pays tribute to fallen firefighters.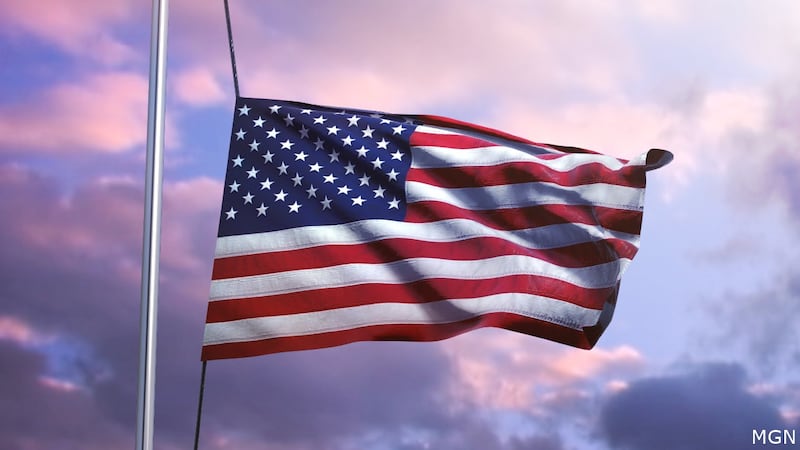 Published: May. 5, 2023 at 7:27 AM CDT
|
Updated: May. 5, 2023 at 1:44 PM CDT
MADISON, Wis. (WMTV) – Flags across Wisconsin will fly at half-staff on Saturday and, separately, on Sunday. On both days, flags will be at half-staff starting at sunrise before being returned to the top of the pole at sunset.
On Saturday, Wisconsin honors a WWII veteran who died over Romania. First Lieutenant Roy Coulson Harms was a Grafton native and piloted a B-24 bomber during the war. He was killed by enemy anti-aircraft fire on August 1, 1943, during Operation TIDAL WAVE.
His remains were not identified at the time and were buried in Romania before being interred in Belgium. They were identified recently thanks to his family and the work of the Defense POW/MIA Accounting Agency. In 2017, the agency began exhuming unknown remains from that military operation. Harms will now be buried with full military honors on May 6 in his hometown of Grafton.
He was posthumously awarded the Distinguished Lying Cross, the Air Medal, and the Purple Heart.
The following days, flags will return to half-staff to pay tribute to firefighters who lost their lives in the line of duty. It will come on the same day as the National Fallen Firefighters Memorial Service. The service is part of National Firefighter Memorial Weekend, the Evers Administration noted, explaining that the tribute weekend was moved from October to May by the National Fallen Firefighters Foundation.
Despite the move, Wisconsin law designates the week on which October 9 falls as Fire Prevention Week. At the end of that week, which this year falls on Saturday, October 14, as part of Wisconsin Firefighters Memorial Day.
Click here to download the NBC15 News app or our NBC15 First Alert weather app.
Copyright 2023 WMTV. All rights reserved.