Meet the kids with the best handwriting in the country
Published: Jun. 7, 2023 at 2:02 PM CDT
(Gray News) – Meet the students with the best handwriting in the country.
Educational publisher Zaner-Bloser has announced the winners of its 32nd annual National Handwriting Contest.
One student from each grade level – kindergarten through eighth grade – was selected as having the best handwriting among all entries across the United States in their respective grades.
Thus, a total of nine students nationwide took home the title of Grand National Champion.
According to Zaner-Bloser, about 80,000 students enter the contest each year. About 2.5 million students have participated since the contest began in 1991.
Participating public and private schools nationwide select their own winners, who then advance to state-level competitions. From there, the state-level winners advance to the national competition.
Students in kindergarten through second grade compete in the manuscript (print) category, while students in third grade through eighth grade compete in the cursive category.
A short entry form asks the students to write their names and answer what they like best about handwriting. All students are also required to write the sentence, "The quick brown fox jumps over the lazy dog," because it contains every letter of the alphabet.
A panel of judges selects the winners based on the shape, size, spacing, and slant of the handwriting.
This year's winners are:
Kindergarten — Hunter Chappel, Joe Walker Elementary School, Washington, Pennsylvania
First Grade — Ainsley Vitkoski, Lehman-Jackson Elementary School, Lehman, Pennsylvania
Second Grade — Audrey Clemente, Valley Christian Academy, Santa Maria, California
Third Grade — Jasmine Nguedjam Mbianda, Prairie Vista Elementary School, Granger, Indiana
Fourth Grade — Braedyn Fehl, Anasazi Elementary School, Scottsdale, Arizona
Fifth Grade — Lexi Pham, St. John the Evangelist Catholic School, Hapeville, Georgia
Sixth Grade — Freya Mojica, St. Joseph School – Fullerton, Baltimore, Maryland
Seventh Grade — Daisy Almaraz, Sacred Heart Academy, Winchester, Virginia
Eighth Grade — Lauren Hand, St. Pius V School, Melville, New York
Each winner receives a trophy and a $500 check, and their teachers receive a certificate. Their schools receive a $1,000 credit toward Zaner-Bloser products.
Check out this year's winners and their handwriting samples below.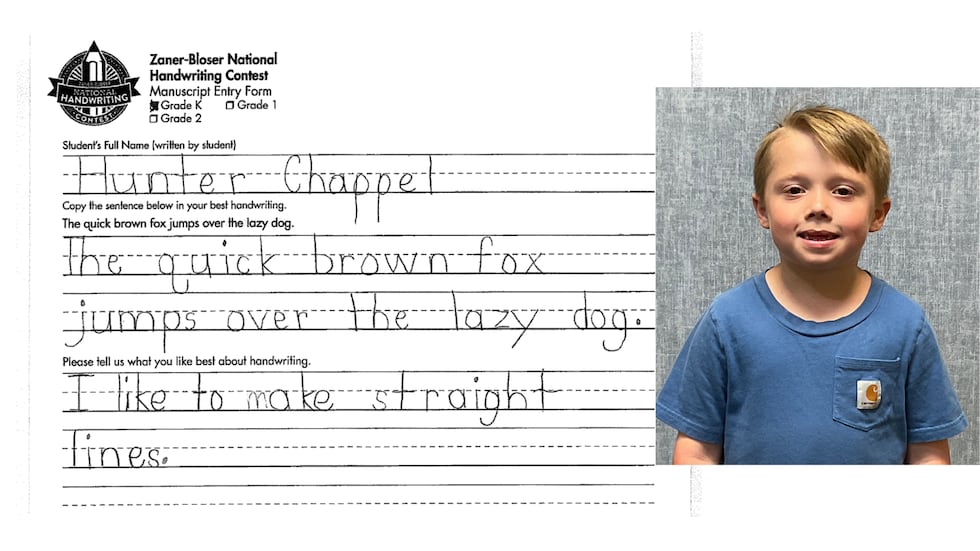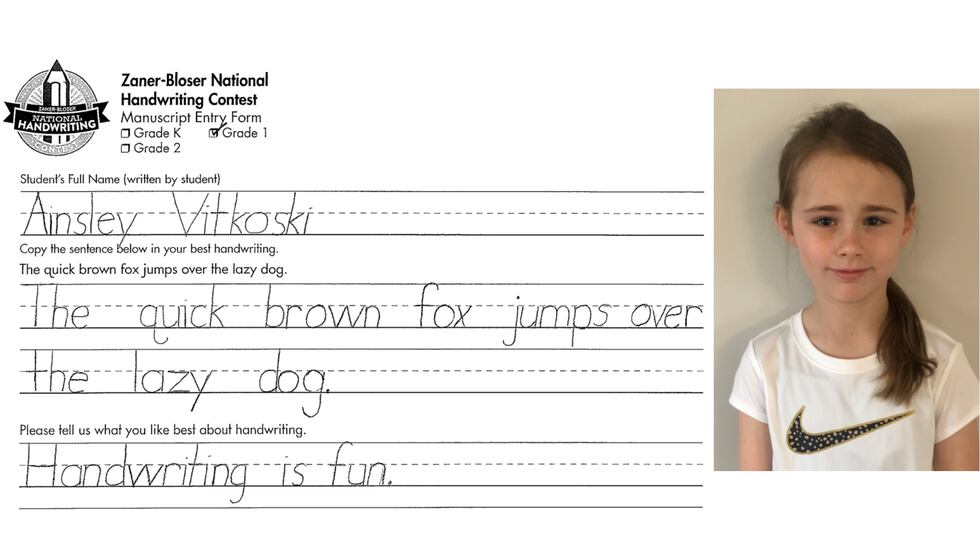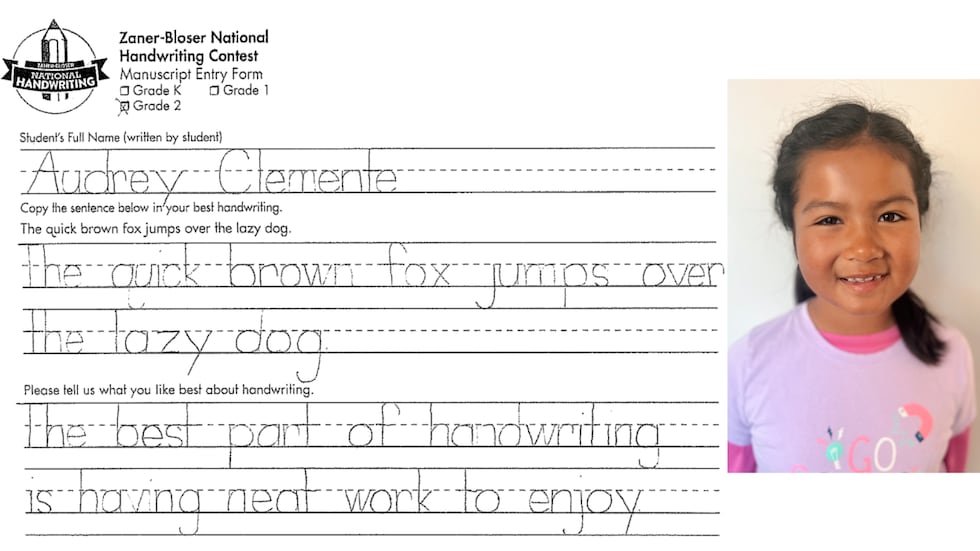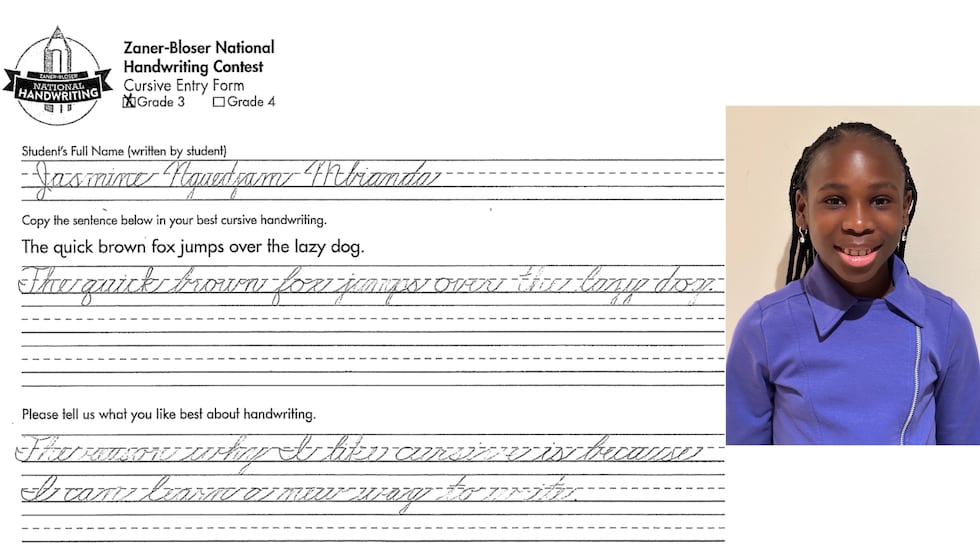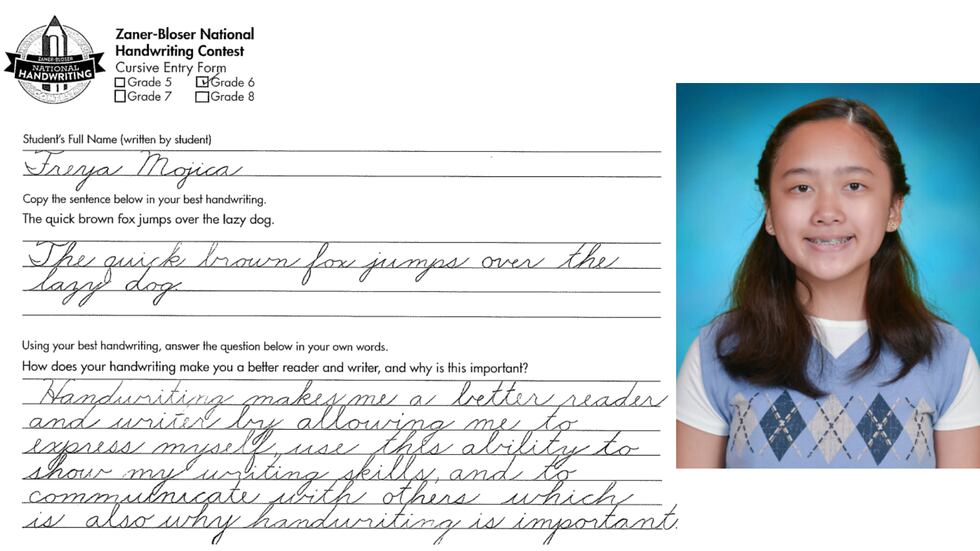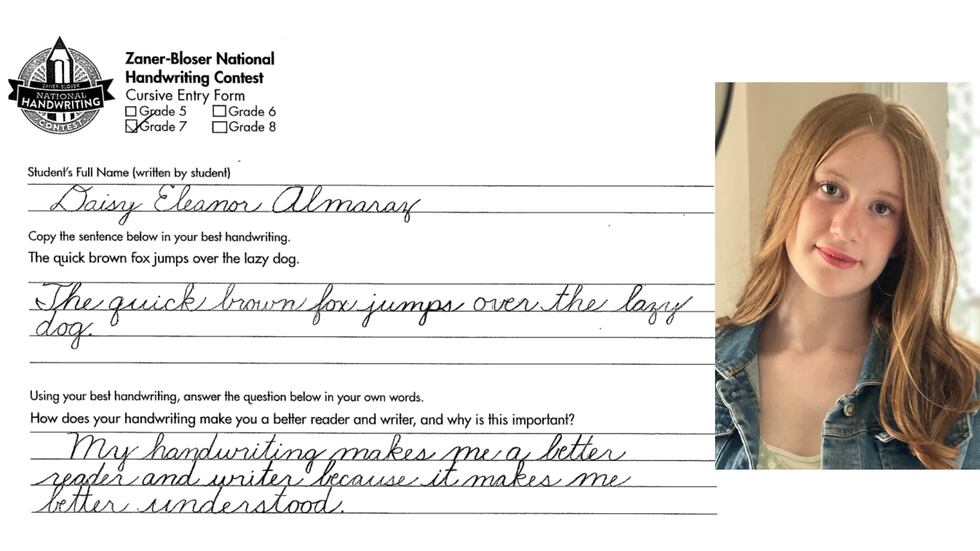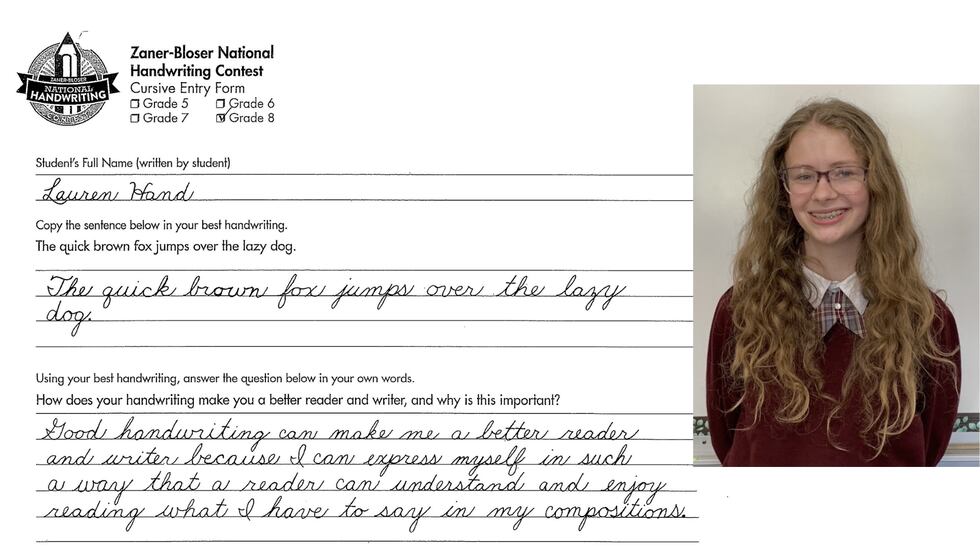 Copyright 2023 Gray Media Group, Inc. All rights reserved.