Stricker and Kelly look to shine at home state's U.S. Senior Open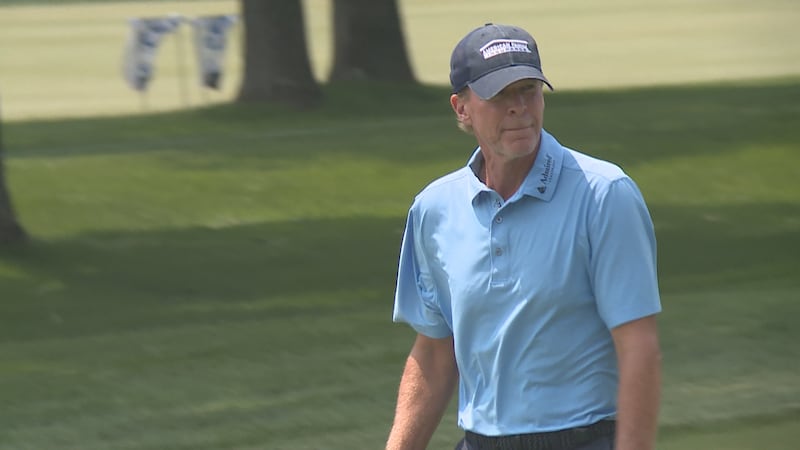 Published: Jun. 27, 2023 at 8:34 PM CDT
STEVENS POINT, Wis. (WSAW) - The second round of practice days for the U.S. Senior Open is in the books at SentryWorld as golfers work to get used to a course that's largely unknown to the professional circuit.
But for Madison native Steve Stricker and Jerry Kelly, it feels like 1984. That's the last time they played at SentryWorld as amateurs.
"I remember the flowers," Stricker said. "I mean, that's what I remember. I remember shooting 76 and 76. Now that's not going to get it done this week here," Stricker said.
Stricker recounted playing there in his high school days alongside Kelly.
But they haven't touched the course again until this year, and the new course will be a test. Throughout the day, golfers found themselves in the rough and you could barely see their ball. But that doesn't mean it won't feel like home course advantage for the pair this week.
"It's huge. I mean we always called the [Greater Milwaukee Open], we always called the [American Family Insurance Championship] a major," Kelly said. "But it's our fifth major mentality. Now we've got a major in the state. It is a double major? I don't know."
Kelly comes into the event knowing he's been struggling, while his counterpart Stricker has been torching up courses. He's won back-to-back majors.
"That's what somebody going on a heater does for you," Kelly said. "It shows you whether you want to say you're adequacies, is it shows you how much better you need to be to compete."
For Stricker, all that's left is to keep doing what he's doing—go for major win number three in a row in his home state.
"To win here would mean a lot," Stricker said. It's a major championship, first of all. It's right here in our backyard and I've had history on this golf course. It would be a really cool spot to win."
Stricker has a good shot along with last year's winner Padraig Harrington.
Another fun contender will be two-time former U.S. Open Champion Ernie Els. The last U.S. Open win came in 1997, although he won The Open Championship in 2012. No he's competing on the senior circuit.
At the U.S. Senior Open last year, "The Big Easy" finished tied for 13th. However, he's found some success in recent years, finishing third last weekend in the Dick's Sporting Goods Open and he has been top ten in three straight competitions. Keeping that going this week is going to be tough.
"You're going to bring some game," Els said. "You're going to have to hit all those shots, but mainly hit the ball in the fairway. If you can do that for four days, that'd be great. That can give you an opportunity to be fairly aggressive."
A lot of golfers talked about the thick rough that will challenge competitors all week.
One more practice day is set for Wednesday, and then play will open on Thursday and go through Sunday.
Copyright 2023 WSAW. All rights reserved.