We're Heading To The 90s
Uncomfortable heat for the holiday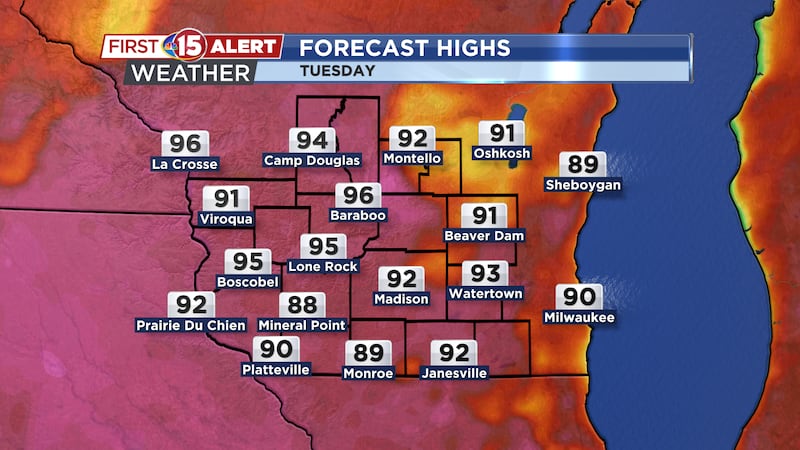 Published: Jul. 2, 2023 at 1:19 PM CDT
Temperatures above average for Monday and Tuesday
Afternoon heat indices may feel like the mid 90s
Showers come Wednesday
Download the First Alert Weather app
MADISON, Wis. (WMTV) - As we end the weekend our highs were right there at the average for this time of year, but it felt warmer with more humidity in the air. Also, the showers that were lingering have moved out. Tonight we'll stay mostly cloudy with lows down into the mid 60s.
As we begin the week, and the last two day of our long holiday weekend, it will be the rising temperatures that will be the our focus. Highs on Monday will reach to near 90 or higher. Add to that some moisture in the atmosphere and by the afternoon it will fell more like 93 in some areas. Monday night may bring a few showers and possibly an isolated thunderstorm. Then for the 4th, temperatures will make their way into the lower 90s, and by late morning the heat index will already feel like 90. Tuesday night will be a warm evening to catch the fireworks with showers holding off till Wednesday.
What's Coming Up...
By Wednesday a front will be moving through our area, and it will be a day of off and on showers and thunderstorms beginning early in the morning through the evening. This will be our one chance this week to see any precipitation, but models are not indicating that we will see anything substantial. Less than an inch is what we should expect.
Looking Ahead...
After the front moves through we'll be back down into the upper 70s for Thursday. We'll continue to stay dry through the weekend with our next chance of showers early next week.
Click here to download the NBC15 News app or our NBC15 First Alert weather app.
Copyright 2022 WMTV. All rights reserved.