Thunderstorms move in, clearer skies this evening
Skies will begin to clear early this evening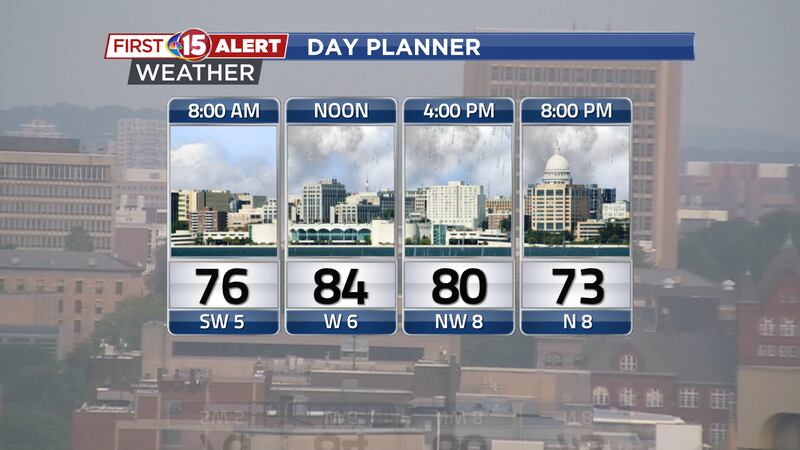 Published: Jul. 5, 2023 at 2:16 PM CDT
Increasing clouds today
Mainly afternoon rain
Cooler & more comfortable tomorrow
Download the First Alert Weather app
MADISON, Wis. (WMTV) - Today was a warm day with highs in the upper 80s. But with the advance of the cold front, we saw thunderstorms move through this afternoon with periods of heavy rain and some damaging winds.
Skies will begin to clear early this evening with drier and clearer skies. Overnight lows will reach down into the lower 60s.
What's Coming Up...
Thursday and Friday will stay dry with mostly sunny skies and highs into the upper 70s to near 80.
Through the weekend temperatures will begin to slowly rise into the lower 80s. There will be a slight chance of rain early Saturday, but other than that, we're expecting it to be a partly cloudy weekend.
Looking Ahead...
Today: Increasing clouds, warm and humid with rain likely. High: 85. Wind: Light SW 5-10.
Tonight: Mostly cloudy with rain likely. Low: 63. Wind: N 10.
Thursday: Mostly sunny. High: 78.
Friday: Mostly sunny. High: 80.
Click here to download the NBC15 News app or our NBC15 First Alert weather app.
Copyright 2022 WMTV. All rights reserved.