Heat Wave Expected Next Week
Heat index could feel more like 100F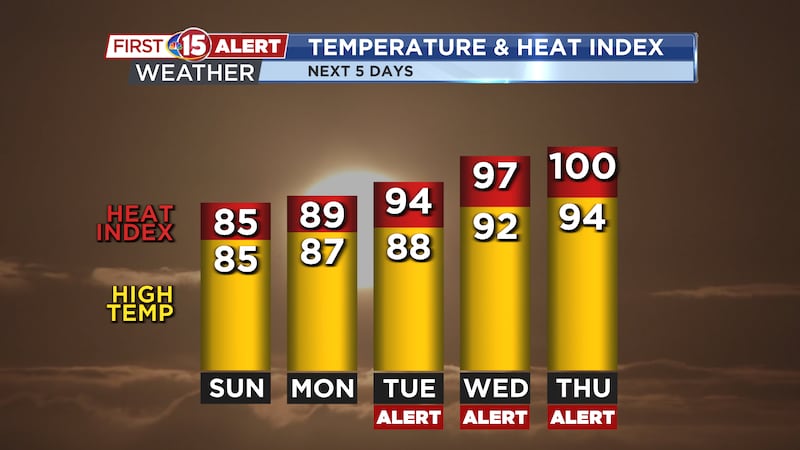 Published: Jul. 22, 2023 at 2:48 PM CDT
Passing showers and thunderstorms tonight
Drier Monday and Tuesday
Dangerous heat expected Tuesday - Friday
Download the First Alert Weather app
MADISON, Wis. (WMTV) - We have a beautiful weekend in store with temperatures closely matching average for this time of July, we should be topping out in the mid 80s. What we will be watching this afternoon and evening are some showers and thunderstorms that are beginning to pop-up. They are beginning as showers when they form in counties just west of Madison, then as they progress west, they gain a bit of intensity and become thunderstorms. If any of these scattered storms were to pass overhead you'll likely see a period of gusty winds, heavy downpours with lowered visibility and possibly some hail. It probably won't be till near midnight that we see most of this convective activity pass.
What's Coming Up...
Sunday and Monday will be a bit quieter. We'll continue to stay mostly dry with the chance of showers again isolated to the afternoon and evening. The changes that will begin happening are the rising temperatures. The heat dome that has been dominating much of the southwestern US will begin expanding east. Sunday temperatures will stay fine, near average, but starting Monday we'll begin to feel of the effects of the approaching heat moves. Highs on Monday will be rising to the upper 80s.
A Look Ahead...
Our First Alert Days are still in effect for Tuesday, Wednesday and Thursday (possibly Friday). This is for the dangerous heat conditions we're expecting those days with temperatures rising to the near mid 90s everyday, and real feel temperatures going even hotter in the middle of the afternoon, possible to near 100 or over.
There are several days to get ready for the heat. Use logic when venturing out during the afternoon, can playground times shifted to earlier in the morning or evening? Do you have elderly neighbors around you that would appreciate a quick checkin each day, just to make sure they have what they need to get through the heat wave. The elderly are one of the largest groups that are effected by heat-related illnesses, and each day that passes makes it even riskier for them until the heat even is over.
Click here to download the NBC15 News app or our NBC15 First Alert weather app.
Copyright 2022 WMTV. All rights reserved.