Gorgeous Weekend Ahead
But wet start to the week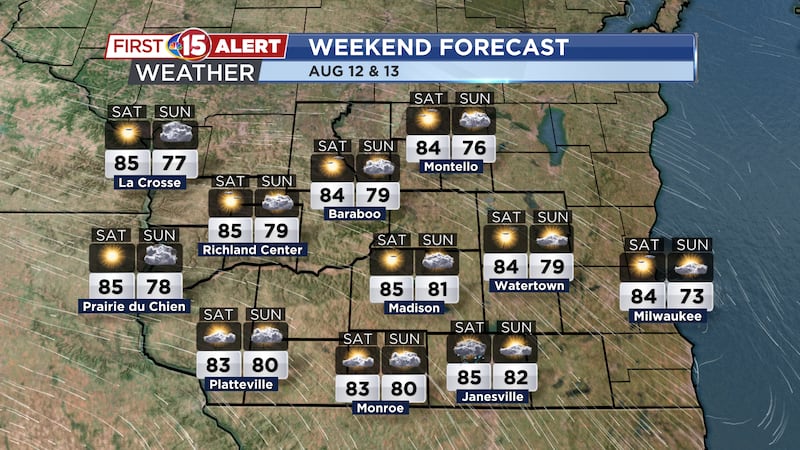 Published: Aug. 12, 2023 at 5:48 AM CDT
Warm and sunny on Saturday
Increasing clouds for Sunday
Full day of showers on Monday
Download the First Alert Weather app
MADISON, Wis. (WMTV) - After our stormy Friday evening, we're waking up to a much calmer Saturday morning. There were a few lingering showers near the Illinois border before sunrise, but for the majority of us, sunrise brought with it clear skies. Where there were some heavier showers last night, we also had a bit of fog forming this morning which will be burning off mid-morning.
For the rest of Saturday, we're expecting plenty of sunshine and temperatures making their way up into the mid-80s. Winds will also pick up from the WNW this afternoon.
What's Coming Up...
Sunday will begin with sun and clouds, but we'll see those clouds continue to move in through the day. By the evening, showers will make their entrance with the approach of the next system. Highs will be in the lower 80s. Overnight Sunday and into the day on Monday it will be predominately clouds and showers. We're not going to see much of a break from the precipitation as we start the new work week. Winds will also pick up as the system moves through. Highs are only near 70.
Looking Ahead...
Then on Tuesday, we will have cleared out and we're expecting plenty of sunshine and mild temperatures.
Click here to download the NBC15 News app or our NBC15 First Alert weather app.
Copyright 2022 WMTV. All rights reserved.