Generative A.I. forces Wisconsin teachers to adjust lesson plans
Published: Aug. 14, 2023 at 6:00 PM CDT
|
Updated: Aug. 14, 2023 at 6:38 PM CDT
"It is changing education."
MADISON, Wis. (WMTV) - Generative artificial intelligence is changing how many Wisconsin teachers are approaching their curricula this school year.
Watertown High School American Literature and AP Language teacher of 22 years, Hillary Lobenstein, says Snapchat's My AI chatbot was her first hint at how drastically this technology is influencing education.
"It was one of those like mind blowing moments in the classroom," explained Lobenstein, adding, "this is something that is changing what we're doing, and it's changing it right now."
In a class exercise last school year, her students asked My AI to write an essay on the book they were reading. Lobenstein said the results were shocking.
"We had multiple students take that out and plug in that same prompt. Every single paper is slightly different. It does follow a general format, a general organization," told Lobenstein.
She said while the papers did lack a human-like inflection, she was immediately fearful that students would abuse this technology.
"I do think it makes the ability to cheat or to turn in AI created material, and it makes it very accessible for students," she said.
Lobenstein says tools like My AI and ChatGPT are forcing her to restructure her lesson plans.
"Now, I don't assign writing to be done at home, I assign writing to be done in front of me. We are still developing the tools to catch the AI generated papers at this point and time," she explained.
She's also considering having her students handwrite some assignments instead of typing. Additionally, she's also rephrasing writing prompts so that students must personalize their answers. "We want to make sure our students are doing their own work, are doing the learning, the thinking on their own," said Lobenstein.
Lobenstein also knows artificial intelligence is a powerful resource, if used ethically. As she learns to navigate these tools herself, she is testing out ways to incorporate them in her curriculum.
"We have discussed using it as a place to start. So, let's have it write an essay about a certain poem or a certain short story. Then, let's see what it comes up with. Then, let's look at it and improve upon it," told Lobenstein.
She is also encouraging an open dialogue with her students, asking them to weigh in on how they can collectively use large language models in the classroom.
"It may be for the better. We might be improving our models of education, and about thinking, and getting students to consider: how is this going to be a part of your adult life?"
"It's not going to go away. Students need to learn it."
UW Madison Sears Bascom Professor of Learning Analytics, David Williamson Shaffer, says teachers at all levels of education are having to adapt quickly to this new wave of technology.
"We know that students are going to use it whether or not teachers plan for it, which means that teachers have to plan for it. Unfortunately, when change comes this rapidly, teachers are sort of left on their own to figure it out, and I think that's a big problem," said Professor Shaffer.
He is finding ways to incorporate ChatGPT, Perplexity, and similar models into his graduate courses, like using it as an editor for writing.
"Graduate students often struggle to write academic-like reports and so this is good way to take the reports that they've written and see what the machine thinks of them, how it can improve them, and learn to write better along the way," explained Professor Shaffer.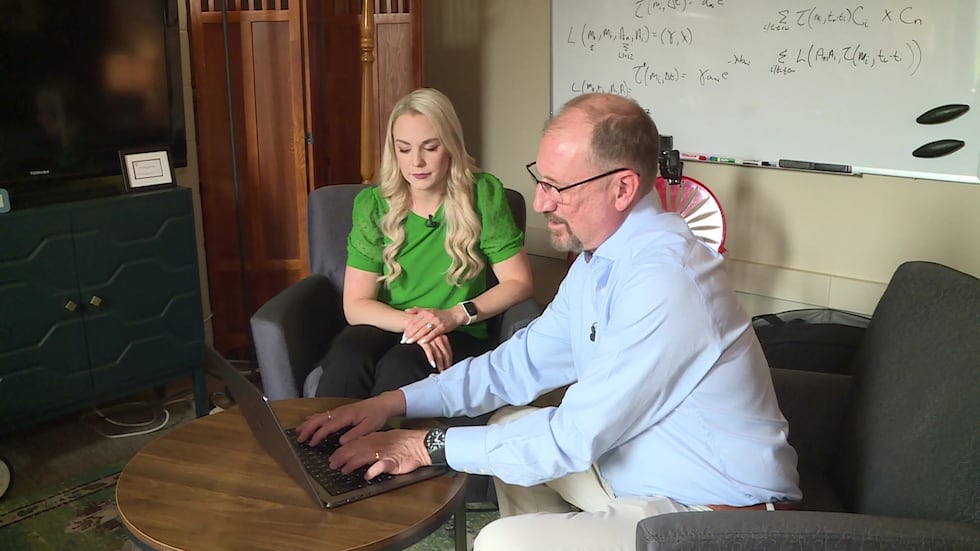 He notes that this technology is not without its flaws, saying many models don't provide sources for generated material, making distinguishing facts from fiction a challenge.
"The thing that people forget is that AI basically makes stuff up. Obviously, it's making stuff up because it's generating text, we know that, but it literally will just invent sources," said Professor Shaffer.
His advises everyone to try out these models themselves, but to use them with care.
"Hopefully these are technologies that will help us solve the big problems that we face, like climate change, deal with issues of social justice," said Professor Shaffer. "But again, that's only going to happen if we teach people to use AI well. If we don't do that what will happen is the people who know how to use it will take advantage of it, or the AI will start to do strange things on its own."
SCHOOL POLICIES ON A.I.
UW Madison has a policy on the use of generative A.I. It states that students and faculty should only enter low risk information into these tools, meaning anything that is publicly available information.
It goes on to explain that this is because A.I. services collect and store data, and UW does not want to compromise internal information.
The WI Department of Public Instruction does not yet have guidance for teachers regarding the use of A.I. in classrooms.
DPI Communications officials say they are gathering feedback from educators to create recommendations, though they do not have a timetable for when that may be complete.
Hillary Lobenstein is related to an off-air member of the NBC15 staff.
Click here to download the NBC15 News app or our NBC15 First Alert weather app.
Copyright 2023 WMTV. All rights reserved.