LaFleur calls upcoming week 'most exhausting week of training camp'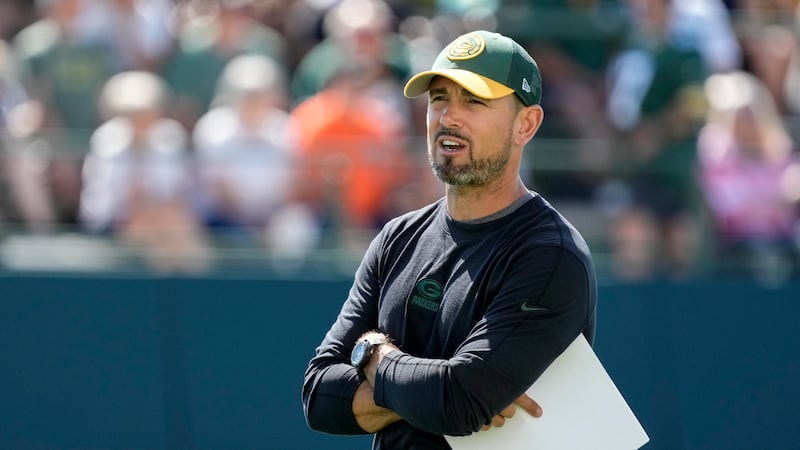 Published: Aug. 13, 2023 at 8:04 PM CDT
GREEN BAY, Wis. (WMTV) - The Green Bay Packers are back home from a successful preseason trip to Cincinnati and had a light practice on Sunday with no pads.
Offensive tackle David Bakhtiari and cornerback Jaire Alexander did not practice Sunday. Linebacker Tariq Carpenter is the only injury addition from Friday, with a back injury. Also, running back Tyler Goodson was on the sideline in a sling. Linebacker Rashan Gary is reportedly on the mend, but is still doubtful to be cleared for team reps this week.
Head coach Matt LaFleur called the upcoming week "their most exhausting week of training camp." The next few days will be tough, so Sunday's practice was short and without pads. Monday will have practice, followed by a walk-through Tuesday. Joint practices with the Patriots will follow on Wednesday and Thursday, then capped off with the preseason game Saturday at Lambeau Field.
There is still a lot to still figure out, but what did LaFleur learn about the squad after the first preseason game?
"The one thing that showed up on tape, which you're never quite sure until you get into those games, is I think there was a different play style than we've seen maybe here in the past," LaFleur said. "I really thought these guys were attacking it the right way in every phase, which we're really pleased with. But again it was one game. We got to continue. That should be the first step in the journey. We'll have a great test this week against a team that's respected as anybody. It'll be another good test for us."
The Packers second preseason game is Saturday, kickoff is set for 7:00 at Lambeau Field against the Patriots.
Click here to download the NBC15 News app or our NBC15 First Alert weather app.
Copyright 2023 WMTV. All rights reserved.