No. 19 Wisconsin beats Buffalo 38-17 to open coach Luke Fickell's first season with Badgers
The beginning of the Luke Fickell era in Madison
Published: Sep. 2, 2023 at 2:24 PM CDT
MADISON, Wis. (AP) — Chez Mellusi ran for 157 yards and two touchdowns, Braelon Allen added 141 yards and two more scores and No. 19 Wisconsin started the first season of Luke Fickell's coaching tenure with a 38-17 victory over Buffalo on Saturday.
Fickell coached his first regular-season game since joining the Badgers after six seasons at Cincinnati. He was with Wisconsin for the Guaranteed Rate Bowl victory over Oklahoma State last season.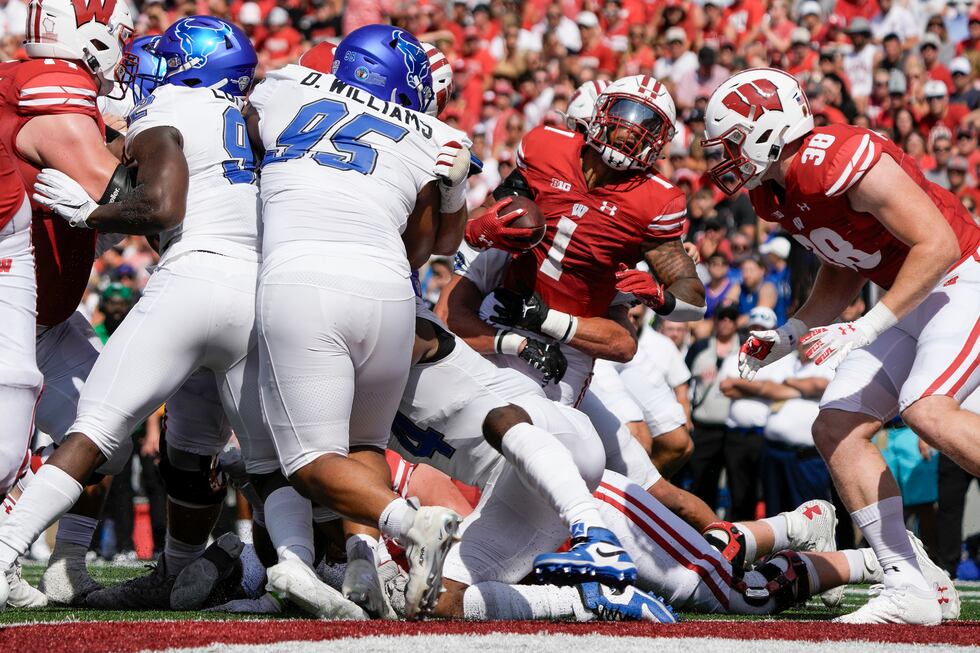 Mellusi, a Clemson transfer who came to Wisconsin in 2021, had an 89-yard touchdown run in which he navigated through the defense to make it 21-10 in the third quarter. He had 13 carries.
Allen had 14 rushes, and caught seven passes for 25 yards. His 37-yard touchdown run extended the lead to 28-10 in the third.
SMU transfer Tanner Mordecai threw for 189 yards and a touchdown, and two interceptions, in his first start for the Badgers.
Melusi had a 1-yard TD run to put the Badgers on the board first in the first quarter. Buffalo scored less than two minutes later when Cole Harrity caught a 7-yard pass from Cole Snyder.
The Badgers had 101 yards rushing in the first half but found their footing on the ground in the third with 150 yards in the quarter.
Chimere Dike caught a 29-yard touchdown pass that gave Wisconsin a 14-7 lead with a minute to go in the first half.
Buffalo's Devin Grant picked off Mordecai's pass at the 50 and returned it to the 16. But Alex McNulty missed a 34-yard field-goal attempt three plays later.
McNulty made a 53-yard field goal with seven seconds left in the first half to pull the Bulls to 14-10.
POLL IMPLICATIONS
Wisconsin figures to stay at No. 19, or fall a couple spots.
UP NEXT
Buffalo: Hosts Fordham next Saturday.
Wisconsin: At Washington State next Saturday.
Click here to download the NBC15 News app or our NBC15 First Alert weather app.
Copyright 2023 WMTV. All rights reserved.