"She came across a monster," suspect says in brutal attack of UW student, criminal complaint states
Published: Sep. 7, 2023 at 3:16 PM CDT
|
Updated: Sep. 7, 2023 at 6:11 PM CDT
MADISON, Wis. (WMTV) – A Madison Police Department sergeant who was one of the first officers on the scene of the downtown attack and sexual assault of a UW-Madison student described the victim's injuries as "one of the most horrifying things I've seen."
The quote came from the criminal complaint filed against the suspect, Brandon Thompson, not long before he made his initial appearance in a Dane Co. courtroom on Thursday. He has been charged with first-degree sexual assault, causing great bodily harm; first-degree reckless injury; and strangulation and suffocation.
"This man is perhaps our greatest public safety threat that lives in this county right now, and that is deserving as the most significant amount of cash bail," Dane Co. District Attorney William Brown told the court.
During the hearing, the court commissioner set his bail at $1,000,000. His next court date is set for Sept. 25.
During the hearing and in the complaint, prosecutors described the extent of the victim's injuries. The complaint states, as of Thursday, she had been diagnosed with a Grade Two Traumatic Brain Injury and an MRI shows a brain bleed. Initially after the attack, the victim was placed in a medically induced coma and she still has trouble staying awake, the District Attorney's Office continued.
Prosecutors pointed out that the MPD investigators have not been able to get a statement from the victim, adding she is still on a feeding tube and appears extremely confused when she is awake.
The first witnesses who called 911 told investigators they were alerted to attack when a man they identified as 'Brandon,' and the police department later determined to be Thompson was calling out that the victim needed help. One of the witnesses told officers she saw dried blood on Thompson's hands, which he claimed were from when he carried her from the street to where they were, behind a home in the 500 block of W. Wilson St. Crime scene photographs, however, showed no blood in the street behind the home, a detective noted.
During a news conference on Wednesday, the police department indicated Thompson had been on the scene when the first witnesses arrived. The complaint noted that Thompson told them he was on a "high walk" when he discovered the victim. Thompson reportedly told them he was leaving because he did not want to be around officers while he was high.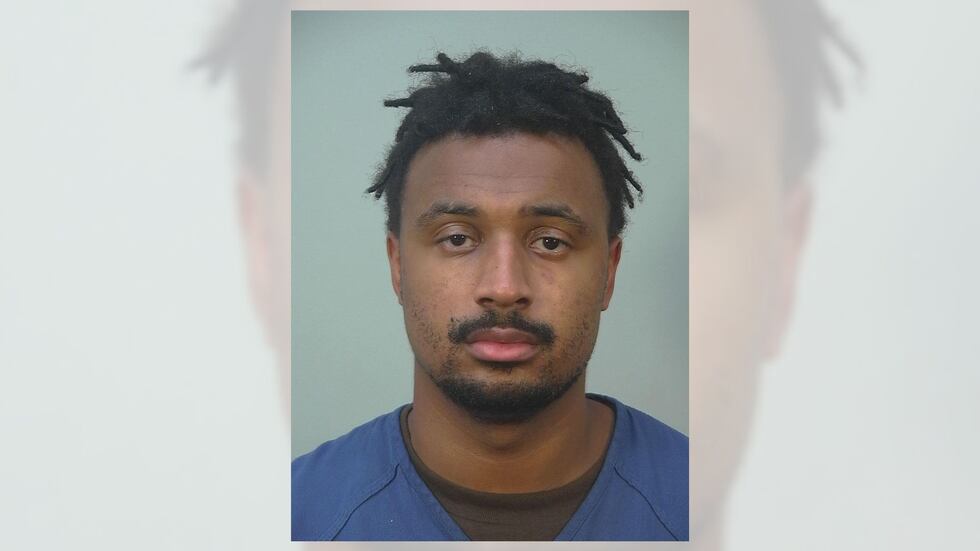 "She Came Across a Monster"
After Thompson was arrested, he told investigators he was angry that night and when he crossed path with a woman, he "saw red" and "did not know what was going on," the complaint quoted him telling detectives.
He allegedly claimed he went into rage and, when he came around, she was already on the ground.
Thompson denied remember sexually assaulting her, according to the complaint; but, admitted he could have done so. According to prosecutors, he went on to say, "[t]he only thing I remember is just hitting."
The complaint adds Thompson told the detectives, "[s]he came across a monster."
An Unreturned Text
The Madison Police Dept. responded to the 911 calls about the attack at 3:20 a.m. that Sunday morning, but investigators believe it may have started more than a half-hour earlier.
A woman told police the victim had visited her home around 8 p.m. and left around 2:15 a.m. that morning. According to the criminal complaint, she sent a text to the victim to ask if she made it home safe - she never got a response, and the message was never read.
The criminal complaint laid out the timeline for what detectives believe happened that night, starting with a traffic stop in Fitchburg two hours before the 911 call. Body cameras worn by the officers showed they had pulled Thompson over. The stop confirmed the type of car he was driving, a Chevrolet, and its license plate number, the complaint said. In the footage, Thompson was also dressed like he was when witnesses found him after the attack.
On Wednesday, the Madison Police Department pointed to surveillance footage as key to the arrest. The complaint notes cameras recorded the victim walking on W. Washington Street shortly after 2:30 a.m. and she remains in view for several minutes as she approaches S. Bedford Street. Another detective reported seeing video that recorded her near The Depot apartment complex, on Bedford Street a couple minutes later. Someone is seen behind her, but police were unable to confirm who it was, prosecutors stated.
Other surveillance videos also showed a Chevrolet leaving the Brittingham Park parking lot and going inbound on W. Washington Ave., according to the complaint. Porch cameras recorded that the Chevrolet confirmed to have been at the parking lot had gone down S. Bedford Street about that time and turned around in a driveway. It was that video that police reported they were able to enhance and determine the license plate number, which was registered to Thompson.
Thompson's attorneys released a statement Wednesday, saying he graduated from the University of Wisconsin- Milwaukee where he studied Criminal Justice Administration. He also received a minor in psychology. The law firm also notes Thompson's father served in the Army until his retirement, later working in the Department of Veteran's Affairs.
"Brandon Thompson is 26 years old. He's relatively young. He is employed but he's not a hedge fund manager. So $10,000 is an amount that would be meaningful to him and that would have secured his appearance and of course all of the non-monetary conditions," Thompson's defense attorney Emily Bell said. "We at this point have not been able to assess the strength of the evidence. We're continuing to do our own investigation which really obviously we have just started. And we've turned up some inconsistent evidence even at this point and we will continue to aggressively pursue all defenses for Brandon."
The Madison Police Dept. has pointed out that the victim and Thompson did not know each other prior to Sunday.
A "horrific" crime
During Wednesday's news conference detailing Thompson's arrest, officials expressed their outrage at the crime.
"The violence perpetrated against this young woman Sunday morning was horrific and will not be tolerated," UWPD Chief Kristen Roman said.
"This is not Madison, this is not UW-Madison, the safety of our Badger community will remain always our top priority we will work collaboratively with our city partners to prevent sexual violence."
Chief Barnes also showed his full-fledged support for the survivor, assuring her that she has "the full support of the Madison community and the Madison Police Department and you are strong, and you are the very definition of courage."
Click here to download the NBC15 News app or our NBC15 First Alert weather app.
Copyright 2023 WMTV. All rights reserved.