Controversy swirls over killing of world-class buck in Janesville
Police say the "dump buck" was harvested illegally, but the hunter says no way
Updated: Sep. 19, 2023 at 6:00 PM CDT
JANESVILLE, Wis. (WMTV) - There's controversy in Janesville over the killing of a deer from almost two years ago. A massive buck was shot and killed – police say illegally. But the hunter involved maintains he was following the law when he fired the fatal shot.
The deer was known as the "dump buck" because he liked to hang around the Janesville city landfill. The dump buck had legendary status in Rock County. Many employees at the dump would take photos of him and share those photos with the hunting community.
"This would be a buck of a lifetime for about 99.9% of hunters," said Sgt. Drew Severson with the Janesville Police Department. "This one is extremely impressive in terms of his size and mass and how old he was. He was just a beautiful animal."
Back in the fall of 2021, Sgt. Severson recorded a video of dump buck.
"I think I was shaking taking the video because it was just so over the top seeing an animal of that magnitude," said Sgt. Severson.
Just a few days after Severson recorded his video, the dump buck was shot and killed with a vertical bow.
According to a police report, Jason Kline of Whitewater killed the buck and posted a photo of the kill to Facebook.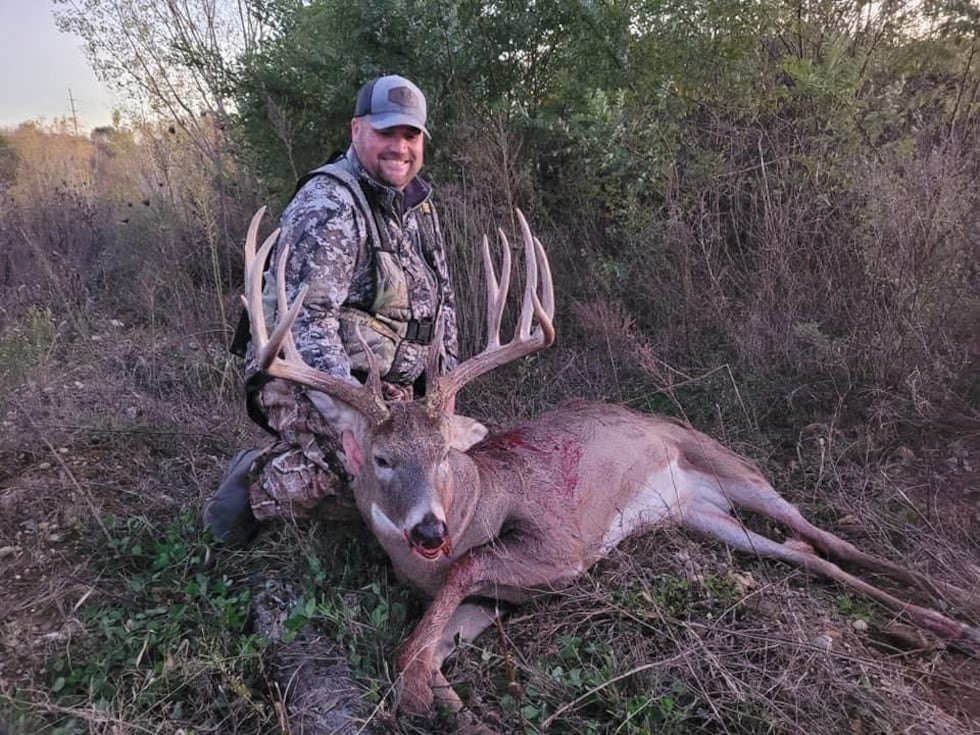 Janesville Police and the Department of Natural Resources started getting tips claiming the dump buck was harvested illegally. They opened a joint investigation.
"We hiked around this area where this buck was supposedly shot in for over two hours and we didn't locate anything -- in my eyes or my supervisor's eyes -- that would say that buck was shot in that area. We didn't locate any drag trails, any blood," said Austin Schumacher, a conservation warden with the DNR.
Their investigation concluded that the dump buck was shot illegally. They claim that Kline was trespassing on private property when he shot the buck -- property he did not have permission to hunt on. Kline was cited for trespassing, firing a bow within city limits, and discharging a weapon within city limits.
Kline denies he did anything illegal.
NBC15 News reached out to Kline for an interview. He declined. His lawyer Kirk W. Everson sent us a statement.
"My client Jason Kline did not illegally harvest the deer in question. The buck was shot legally and on private property which Mr. Kline had full permission to hunt," Everson said in the statement.
Everson claims Kline shot the deer legally and he had permission to be on private property that belonged to his uncle. He says after the deer was shot; the dump buck entered private property belonging to the Lycon Corporation where it later died.
"Unfortunately, he (Kline) was not able to speak to a representative who could grant him official permission to enter the property. Faced with the ethical dilemma of allowing a wounded deer to suffer or wait for permission the following day, Mr. Kline retrieved the deer without permission."
But the Janesville police refute that claim. They say he shot and killed the deer on Lycon's property.
According to police, Kline's uncle told them "[t]he buck was definitely not killed on his property because he has 1.9 acres and he would have known if Kline was hunting on his property."
Janesville police and the DNR also recreated the picture that Kline took of his kill. They say that picture was taken on Lycon's property.
"It's really sad the way it was harvested illegally, but it's also cool that we were able to preserve it to show off its beauty." said Katie Murphy, a taxidermist at Nature's Touch Taxidermy in Milton.
The dump buck recently came into possession of the Janesville police. They turned it over to Murphy and her team to have the buck mounted. Murphy measured the dump buck's antlers at 205 inches.
"That's what a hunter dreams about when they think about shooting a deer – over 200 inches," said Murphy. "When they get that big, they get really well-known. He was really popular in the city limits. He was just a really neat buck and he had really neat cape and as taxidermists we look for that."
The case is now closed, and the dump buck is finally on display – a marvel of mother nature for all to appreciate.
"He's going to stay with us. I think he's kind of a legend around the area. He got the name the dump buck so he needs to stay close to the dump where he lived." Said Sgt. Severson.
Severson says the dump buck will probably be on display at the nearby DPW warehouse and then will be used as an educational tool for hunters and the public alike.
According to court records, Kline paid a fine for the trespassing charge. He also paid a fine for failing to register the deer in time.
The other charges against Kline, including firing a weapon within city limits, were dismissed.
Click here to download the NBC15 News app or our NBC15 First Alert weather app.
Copyright 2023 WMTV. All rights reserved.