A Warm Weekend Forecast
Highs are expected to be well into the 80s
Published: Sep. 28, 2023 at 5:58 AM CDT
Clouds through most of the day today
Highs near 70
Sunshine returns tomorrow
Download the First Alert Weather app
MADISON, Wis. (WMTV) - Some drier weather is coming up over the next several days. We have an area of high-pressure building in from the west now. That slow-moving low pressure system that brought us rain to start off the week, is beginning to move off to the east of here now.
We will still see some lingering clouds today, but no rain is expected. Temperatures will still struggle a bit with the cloudiness. Highs this afternoon are expected in the upper 60s to around 70°.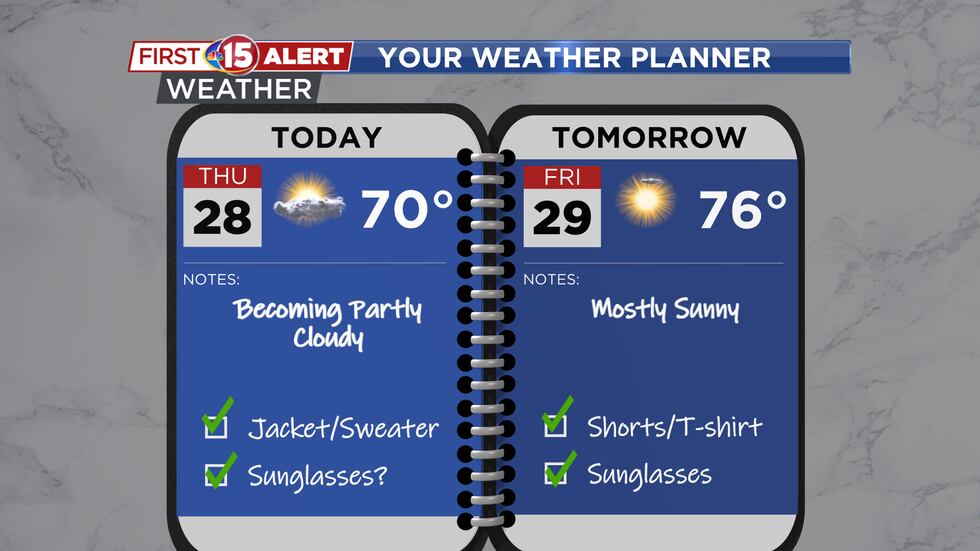 What's Coming Up...
By tomorrow we will start to warm things up as winds become southerly and more sunshine returns. Mostly sunny skies are expected Friday, Saturday, Sunday, and beyond. That ridge of high-pressure will also push high temperatures into the 80s.
Looking Ahead...
Saturday's highs are expected in the mid 80s, Sundays highs expected in the lower 80s. It looks like temperatures will continue to be warm well into next week with very little, if any rain anticipated.
Click here to download the NBC15 News app or our NBC15 First Alert weather app.
Copyright 2022 WMTV. All rights reserved.