Warm Start To October
But temperature drops later it the week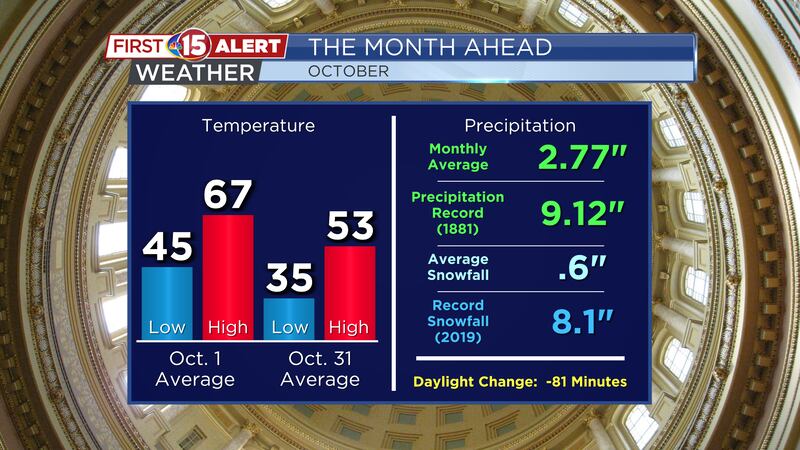 Published: Oct. 1, 2023 at 2:53 PM CDT
Warmth lasts through midweek
Showers come on Wednesday
Cooler than average later in the week
Download the First Alert Weather app
MADISON, Wis. (WMTV) - Welcome to October! This is the first month of the season that we could see snow. The average snowfall for October is .6″. Not a lot, but but back in 2019, Madison received a total of 8.1″ for their October. And unfortunately, there is a big change to our daylight hours too. We loose 81 minutes of daylight hours from the first day to the last day of the month.
But let's not think of the cold yet. We're wrapping up a beautiful weekend! Temperatures yesterday and today were well above average for the start of October. We can all thank a blocking area of high pressure to our east for keeping us sunny and warm.
Tonight, we'll continue to stay dry and clear, and even our overnight lows will be well above average for this time of year. Normally morning lows would reach down to the mid-40s, but for the next several mornings, lows will be 60 or higher. That's about 15+ degrees above average.
What's Coming Up...
The beginning of the work week will be very similar to the weekend. The high will continue to stay in place, but a system coming out of the west will begin to interact with it. Because of that winds will become gustier late Monday through Wednesday. Highs will continue to stay in the lower 80s for Madison and mid-80s toward the west.
On Wednesday we will begin a shift in our weather pattern. A system will be moving out of the plains and the associated cold front will bring the possibility of showers and thunderstorms. Precipitation is expected to linger into the day on Thursday. As of right now, accumulations look low with this next system.
Looking Ahead...
Temperatures behind this front will end our string of 80s. By Thursday highs will only reach into the higher 60s, and then into the weekend they drop into the lower to mid-50s
Click here to download the NBC15 News app or our NBC15 First Alert weather app.
Copyright 2022 WMTV. All rights reserved.