'Be Like Mike' Award goes to Stacy Darga
Darga runs the school food pantry as the community school site coordinator at Westside Elementary.
Published: Nov. 2, 2023 at 6:37 PM CDT
|
Updated: Nov. 2, 2023 at 8:18 PM CDT
MADISON, Wis. (WMTV) - "Green beans? Okay! Some mandarin oranges, awesome!" says Stacy Darga as she helps an elementary school student shop in the school food pantry.
Darga is there everyday to help students and families get what they need, as the community school site coordinator at Westside Elementary School in the Sun Prairie School District.
"We always do a needs assessment. We see what the needs are for families," Darga explained, "My role is to go out and find those partners that will help us solution and fix those needs for those families."
"I can call her with pretty much anything I need," said Barry Mahlum, Neighborhood Navigator for the city of Sun Prairie, "She can help me find the resources for me, my family... we've had to use them too over the years."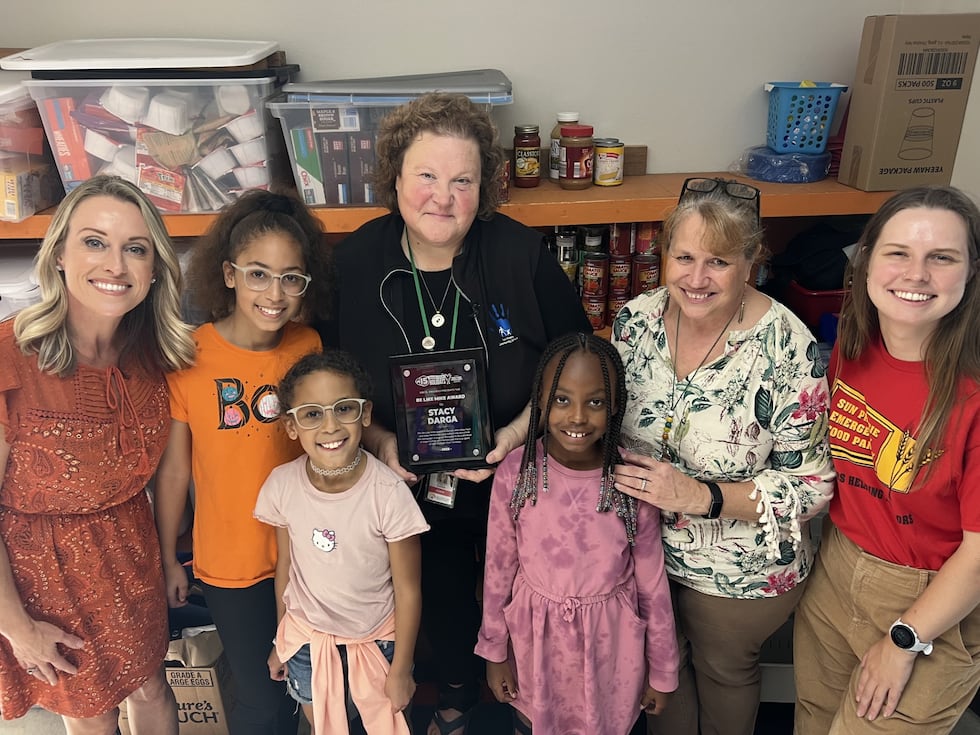 Mahlum is an example of Stacy's work reaching beyond the walls of the school. He understands how life can take a turn, and now works for the city helping to connect residents with resources, which often leads him to Stacy's school pantry.
"It's a comfort level for everybody to know that they're not going to starve tonight," Mahlum added, "They can feed their children. They can get diapers for their baby today, even if they're broke. You know? When life hits we're here to be able to help, and that's the most wonderful feeling ever."
"Westside has a highly mobile population," Principal Nikki Harcus said, "We often have families experiencing homelessness. So families will come in, they will be unable to identify a place that they're going to sleep that night. And so in partnership with Stacy and our social worker, we're able to really wrap around the family."
Stacy's work shifted during COVID-19. She and her colleagues started storing food in the school art room and eventually the library.
"During the pandemic, it really showed how much schools are relied on by families," Darga continued, "Because everything shut down and it was like, oh my gosh, how are we going to get them breakfast? How are we going to get them lunch?"
Stacy and her team started going out into the community to run a daily mobile pantry. They would pack a van with bags of food, paper products, clothing and school supplies and stop at sites around town to deliver food and check in on families.
"I know the pandemic was awful, but it allowed my role as a site coordinator to go deeper," Darga added, "I had to build those relationships. I got to start doing home visits with families, they saw me out there, they started to really trust. Once you've got that trust in that relationship, from there that's where all the learning and the supports start."
A year later, in 2021, Westside became the first community school to partner with Second Harvest Foodbank of Southern Wisconsin, through the help of their partner agency the Sunshine Place.
"She's got a big heart and a lot of big ideas to fill it," said Marly Beck, Food for Kids Operations Coordinator at Sunshine, "She's constantly advocating for what the families need. She thinks of them first, and then translates and relates that back to us."
"I call it walking the path with them," added Darga, "I love the kids when they come in and visit. I love the families, and to know we're truly helping and serving a need that they have is just beyond belief... I am actually going to retire at the end of this year and this is my last school year here at Westside, so that's why I was getting a little emotional when folks were saying something about me."
That's when I decided to surprise Darga with the "Be Like Mike" Award. "I actually have something that's going to make you a little more emotional. I would love to present this award to you, Stacy, our Be Like Mike Honoree this year for the amazing difference you're making here in the Sun Prairie community."
"Oh my gosh, thank you!" exclaimed Darga as she stands up to give me a hug, "That's awesome! Thank you so much! I've watched you give these awards out for years and never thought I would get an award. It's truly amazing. Truly amazing, oh my goodness. Be Like Mike... Be Like Mike, yeah."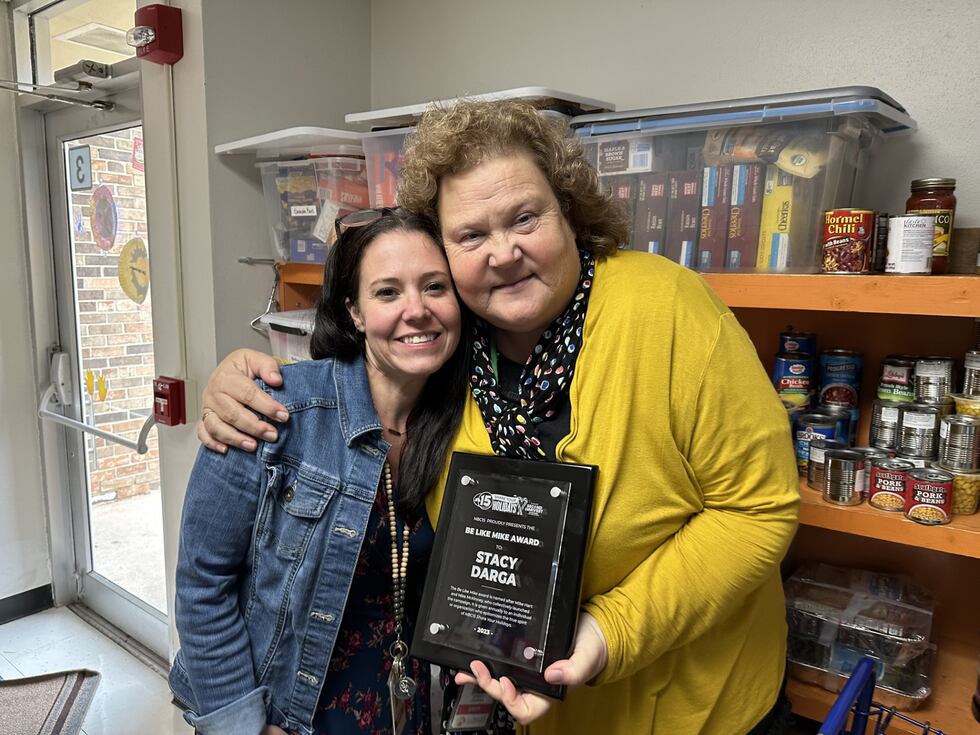 "She makes dreams happen," added Harcus, "Everybody knows M.s Darga and loves Ms. Darga, and she is just like the heart and soul of our school and our community."
Darga is retiring at the end of this school year. We wish her a wonderful retirement.
Stacy's story is just one example of how a donation to our Share Your Holidays campaign is a donation to local kids and families. It will help schools like Westside and people like Stacy continue their important work.
To donate to our campaign: nbc15.com/syh
Click here to download the NBC15 News app or our NBC15 First Alert weather app.
Copyright 2023 WMTV. All rights reserved.