Mistakes cause Vilas Co. judge to order election re-do Nov. 14 for Presque Isle town chair
Published: Nov. 8, 2023 at 7:37 AM CST
PRESQUE ISLE, Wis. (WSAW) - Next week Tuesday, voters in the town of Presque Isle will head to the polls for a re-do of the spring election. This time, there is only one race on the ballot: town chair. In the spring, the difference between the winning and losing candidate was one vote. However, a judge ruled in September that there were irregularities and ordered the election to be held again.
In the town calling itself "Wisconsin's Last Wilderness," the problem was not that spring election officials could not see the forest for the trees, as the expression goes; in this case, the devil was in the details.
The race was a re-election campaign for John MacLean, with Lorine Walters as his challenger. Both have lasting ties to Presque Isle. MacLean noted generations of family while sitting in what was once his grandparent's home. Walters served as the town clerk for 32 years, and treasurer for eight years, serving the town for 40 years altogether. She was the clerk when she ran for town chair in the spring election.
"The clerk running for a different office, of course, there's going to be speculation about, 'Well, she could mess with this,'" she told NBC15 News' sister-station WSAW.
She said it was something she was conscious of long before anyone made any accusations; she noted this in court too.
"I thought, well, I'd like to do a class on elections in Presque Isle and election security, just to reassure people about the process. It's so secure, very difficult, you know, for a clerk to manipulate an election," she said. She worked with the library to set a date and promote the event. "But then we got some complaints that it was an illegal campaign event, so I canceled the class."
That was not the most consequential complaint; that came later. She explained she did her clerical duties, but on Election Day, she stepped aside as much as she could.
"I did not participate in the process at all. I was in the room; I touched nothing. I just stood there making sure that my election workers, who are wonderful by the way, that they had everything set up correctly. And then I voted, and I left the room, and then I didn't reenter the room until the election was over."
On Election Day, April 4, Walters was found to have won the seat for town chair 242 to 241. She said election workers did an unofficial recount that night and got the same result.
MacLean requested a formal recount shortly after.
"I thought it could be something mechanical," he explained, "as simple as when you go to the bank and get two dollar bills and they got no air between them, they stick together. Two ballots could have stuck together. It would not be responsible not to count the ballots again."
At the board of canvassers' recount, the result was the same; MacLean lost by one vote. MacLean objected to at least one person's ballot and questioned another. Accounts differ, but ultimately the judge in the case MacLean filed to appeal the recount determined the board of canvassers did not follow the full procedure for the recount.
Judge Martha Milanowski acknowledged the testimony that this was each of the canvassers' first recount and a new experience, but they did not count the written absentee ballot applications and envelope as part of the review.
This was key because all of the ballots in question were absentee ballots. Board members testified that they did not believe this was their role, but that the clerk would have been the one to inspect the envelopes. Walters was not at the recount, as she was out of town. She also noted she did not want to be perceived as influencing the results of the election.
"In making this decision today," Judge Milanowski stated during the oral ruling, "I'm not implying there was any blatant or intentional disregard of the Board of Canvassers duties by its members. But there was an unfortunate lack of knowledge and understanding as to their role and responsibilities in the recount."
WSAW 7 Investigates reached out to members of the board of canvassers, but they either declined to comment or did not respond.
The ballots in question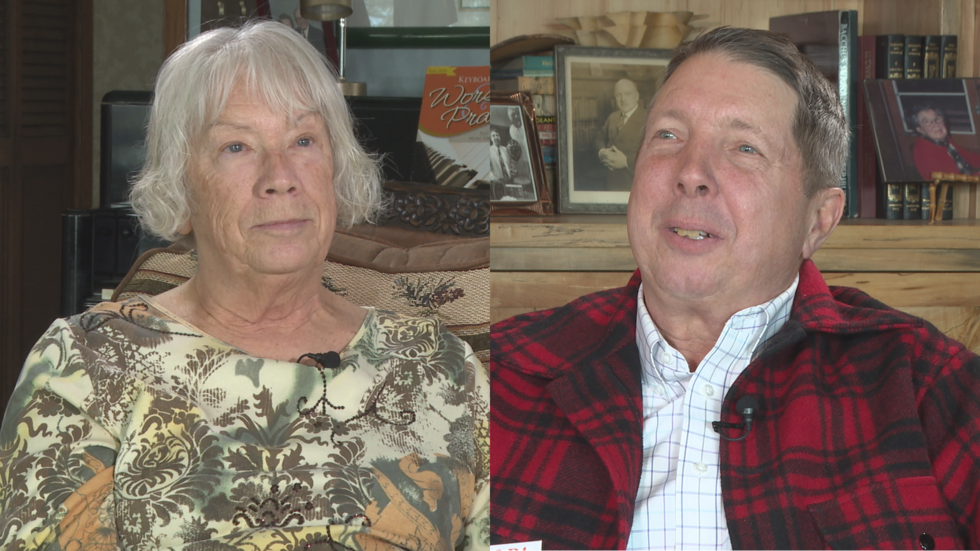 MacLean filed the appeal because he received letters he had sent out to registered voters back in the mail, unopened with either "vacant" or "NMR" marked on them. He learned that meant those properties were either not occupied, per the government's definition, or had no mailbox. He searched the names of the voters on the internet and had concerns.
MacLean, in his complaint, questioned four ballots. Ultimately, three more came into question. Those three additional complaints had the same issue: they were missing the witness address on the absentee envelope.
"The really embarrassing one is that one of them was me; I was a witness on someone's envelope," Walters admitted. "So, it would have been an in-office vote or someone who would come in during that two weeks before the election. And so I signed on the witness line, and then, I don't know, the phone rang or something, but I didn't fill out the address."
She said she would have filled out the address line had she caught it. With the other ballots, she said she typically would have reached out to the voter to notify them that they needed to add in the address if they wanted their vote to count. She said she did not catch those blank spaces.
"There were no absentee ballots that were set aside as incomplete or defective," Judge Milanowski stated during the oral ruling.
Another ballot the judge found invalid was Robert Von Holdt's. MacLean had questioned his residency, but the judge did not rule whether he was an eligible resident because there was another issue that made that point moot in this case.
Von Holdt had requested an absentee ballot near Election Day. Walters said she was concerned that his ballot would not reach him in time for the election. He requested the ballot by phone.
"You can't request an absentee ballot by phone," Walters stated. "It has to be in writing. So, I call him back, left a message, and then we corresponded by email."
The Wisconsin Elections Commission's guidance advises that a registered voter can request an absentee ballot over email, but it must include their name, residential address, mailing address (if different than the residential address), and proof of identification if necessary. It also notes a signature is needed, but added that the voter's signature on the absentee envelope satisfies that requirement.
Walters explained that through her communication over the phone and email, she understood Von Holdt was requesting an absentee ballot, but he had not provided all of the information required by the statute. She was familiar with his registered address, but it was not included in the email. She sent the ballot out as soon as she got his mailing address.
The judge ruled his ballot was illegally cast because the request procedure was not followed. Walters sent out his ballot on March 29 and she received his absentee application on March 31.
7 Investigates reached out to Von Holdt but did not hear back from him.
Another voter's ballot in question was Jane Fulton Alt's. MacLean found her bio on her photography website.
"'I live on the shores of Lake Michigan. I live near the shores of Lake Pontchartrain,'" he recalled reading. "I'll add an editorial comment, 'but I voted Presque Isle.' How does that work?"
The case around Fulton Alt's ballot was centered on her residency in Wisconsin, but also on whether she was a registered voter. MacLean's attorneys learned through voting records that Fulton Alt had voted in Presque Isle in the 2023 spring election, as well as the 2016 and 2020 general elections. Nine other times between 2016 and 2023, she was registered and voted in Evanston, Ill.
Court records note she expressed the importance of the votes in Wisconsin during the elections she participated in.
Wisconsin law states that if a resident votes in another state, they lose Wisconsin residency as it pertains to elector eligibility. Town records show Fulton Alt did not re-register in Wisconsin after voting in Illinois.
"She had been registered since 2004," Walters explained. "So, I had no reason to, you know, check into it. I don't, I don't check every you know, the other state voter registration records to see if somebody is registered someplace else. There's not enough time in the day for that."
Judge Milanowski ruled that Fulton Alt was not registered in Wisconsin and was therefore an invalid ballot that should not have been counted. As with Von Holdt, she did not rule on Fulton Alt's residency eligibility, but both MacLean and Walters noted they do not believe she should be voting in Presque Isle.
7 Investigates reached out to Fulton Alt but did not hear back from her.
The two other ballots in question were a couple who often voted absentee and had their ballots sent to where they were staying during the colder months. They requested as they typically would, but this time, they were spending their time in Wausau at a residential care facility due to the husband's poor health.
Walters sent the absentee ballots directly to the couple, but because they were at a residential care facility that had a special voting deputy administering the election, the legal procedure was different. She was supposed to send the ballot to the special voting deputy, not the couple directly.
Walters said she was unaware of the rules relating to special voting deputies, as they do not have residential care facilities or nursing homes in Presque Isle and she had not run into that rule in her time as clerk.
The judge ruled that the couple's ballots could be counted because while there was a clerical error, the voters did everything they were supposed to do. Wisconsin law protects voters from clerical errors.
The husband has since died following the spring election. 7 Investigates reached out to the wife but did not hear back from her.
Walters also raised questions about MacLean and his wife's voter registration. Walters claimed the address they registered as electors does not exist and that they actually reside in Michigan.
Judge Milanowski dismissed those claims saying Walters was in a unique position to know long before this case as to the MacLeans' eligibility "and could have and should have questioned his eligibility prior to the election if she felt they were, either of them, was ineligible." She also did not believe she provided evidence that would prove her claims beyond a reasonable doubt.
The judge did not believe the mistakes and errors in the ballots were made intentionally. However, with a one-vote margin, without asking the voters to disclose who they cast their ballots for, the election needed to be held again.
Ultimately, both candidates expressed gratitude for the overall outcome of the case.
"I was happy about that because I didn't know how– what the election turnout should have been based on these five ballots," Walters noted. "We got a do-over."
"It could definitely be a tight race," MacLean said. "And again, how ever it comes out is the will of the people."
Potential voter fraud
Judge Milanowski did not make a determination about fraud in the case. The Vilas County Sheriff's Office Chief Deputy Patrick Schmidt told 7 Investigates they referred charges of potential fraud from their investigation into the findings of Judge Milanowski's case to the district attorney.
District Attorney Karl Hayes said he is reviewing the evidence to see what, if any, charges will be filed.
The campaigns
Come Tuesday, voters will still have to choose between MacLean and Walters.
"Why would you give up a promotion, essentially, to my competitor to run the town when she had such a hard time running the election, and then the canvass, the special recount afterward? I don't think that's fair," MacLean argued.
"We're all human beings, we all make mistakes," Walters responded. She said they were bound to find errors with this much scrutiny over the election.
On the issues, MacLean was concerned about how Presque Isle was fairing to neighboring towns.
"Presque Isle has gone down in my lifetime. We've had originally two grocery stores. At the same time, we had two full-service gas stations. We had a little furniture manufactory. We had many resorts, lots of things for people to do, and a wide spectrum of ages here," he explained. "We need to have a place where all ages and all types of people can feel welcome, and where they can be rewarded."
He also noted the importance of access to health care, particularly emergency medical services with an aging population. He also discussed the importance of Main Street.
"I'm going to advocate for improving our parking and also getting a walkway that would be reminiscent of the original boardwalk that went from the top of the town down to the bottom of the town."
Walters said she is focused on the issues already on Presque Isle's plate and completing outstanding before starting new initiatives, such as continuing the broadband progress and the restoration of dams that had failed.
"There's been a lot of stuff in Presque Isle, our agendas are long, and so take care of the current business and then start thinking about other things."
With that, she notes there is an affordable housing shortage that she would like to address.
Division in Presque Isle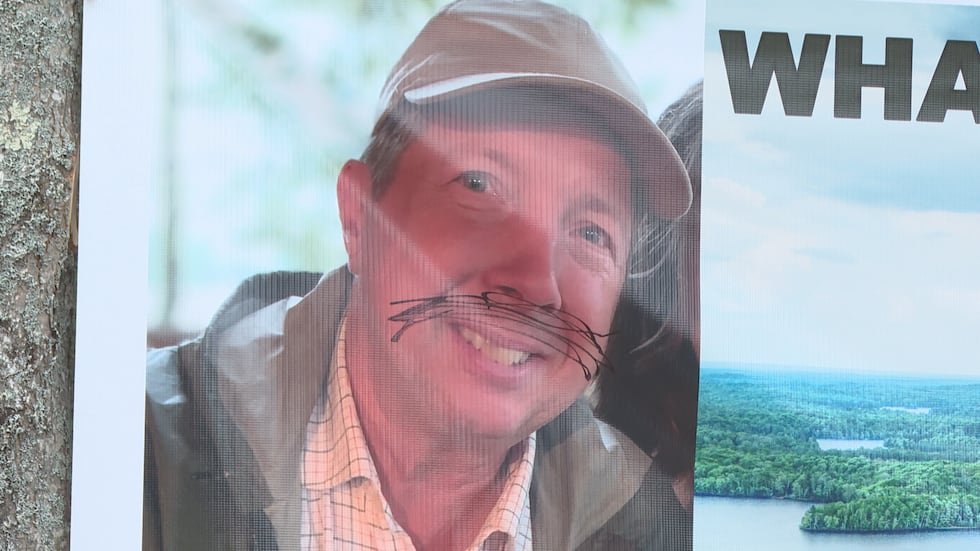 Both candidates noted division within the town as they have been campaigning. Both have had signs stolen. MacLean had one of his signs defaced.
A supporter of his believes he caught the people responsible for the graffiti on camera and claims those responsible are supporters of Walters. Chief Deputy Schmidt said they are investigating those claims and received 40 gigabytes worth of trail camera photos.
Walters said she does not know who vandalized the sign, but believes the people being accused could not have been the ones to do it.
"One of my supporters stopped at the sign when they saw it and took a picture of it. And then a Badger Heating truck pulled up behind them, and apparently, took a picture of their license plate. So now they are being accused with putting the mustache on the sign. The husband has mobility issues. You know, they're both in their 80s the mustache, you would need a ladder to put that mustache on there. It was way above where somebody could stand on the ground and do it. Neither one of them would have been able to do that."
MacLean said he has also been yelled at and received threats, which he has also reported to law enforcement.
"I've had 34 campaign signs stolen," MacLean said, tearing up. "What kind of place is this? We got to fix it and I can fix it. But I need all the people that have a good heart to get off the couch and go vote and clean it up."
"There was division before this election even happened," Walters said. "Yeah. So, is there division? Yes. And I'm sure there's responsibility on both sides for that. The last thing I want is for this town to be divided, but it's important that we have good government here and I think I can provide that."
Copyright 2023 WSAW. All rights reserved.