Area pharmacies face numerous challenges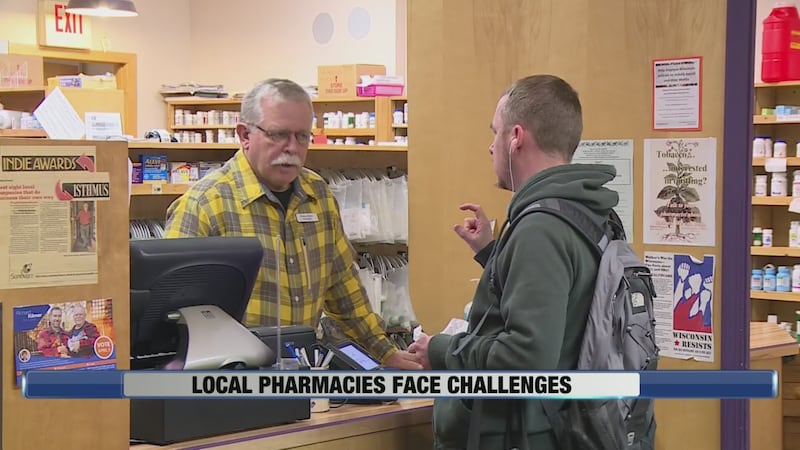 Published: Nov. 18, 2016 at 9:34 PM CST
MADISON, Wis (WMTV)--- According to the American Medical Association, almost 60 percent of Americans take prescription drugs. You might think that would equate to great business for Wisconsin pharmacies, but that hasn't been the case.
Mallat's, a local pharmacy that had been open for decades, closed its doors earlier this year due to declining insurance reimbursements.
Jane Greischar has worked as a pharmacist for almost 44 years, most of those years at Madison's Community Pharmacy, whose doors are still open. After retiring, she spent several weeks researching why independent pharmacies are in a seemingly constant struggle.
"When we fill a prescription for you, the insurance company doesn't pay us right away," Greischar explained. "They'll transmit a claim electronically, and they could pay us at that moment, but they don't."
Greischar explained that pharmacies then have to take out a line of credit, and then hope they're paid fairly by the insurance companies. Almost always, Greischar says they aren't fairly reimbursed.
Dan Strause is the CFO of Hometown Pharmacy and has his own complex list of the business's biggest challenges.
"First, increased competition, you have more bix boxes across the nation. Medicare Part D plans that bring more folks into the market, but also brought in the advent of PBMs, which in this industry have been the bane of our existence." Strause explained.
The intention of PBMs, or pharmacy benefits managers was originally to increase efficiency and keep drug costs down, but so far they've been more effective at keeping all pharmacies, both independent and big box, struggling to break even.
"It's no longer left up to your doctor to choose what's best for you, because your pharmacy benefits manager is holding on to a list of drugs called a formulary." Greischar said.
"Our fear is that our customers no longer have a choice. That one day they'll get a letter saying you can't come here anymore, you have to go to one of these big boxes." Strause said.
Insurers pushing the convenience of mail-order medications isn't helping.
"In patient outcomes, independent pharmacies usually do much better, because we know our customers on a face-to-face basis." Strause said.
"If you do the mail order, you're taking all this business from Wisconsin and shipping it to either Florida or Arizona where theres huge mail order facilities." Greischar said.
This multifaceted challenge eventually boils down to a need for legislative reform.
"Unless people see the whole picture and realize the importance of local business, things are going to change drastically." Greischar said.
Both Greishar and Strause have made efforts with lawmakers to reform how insurers and PBMs reimburse pharmacies.