Bishop Morlino laid to rest at Resurrection Cemetery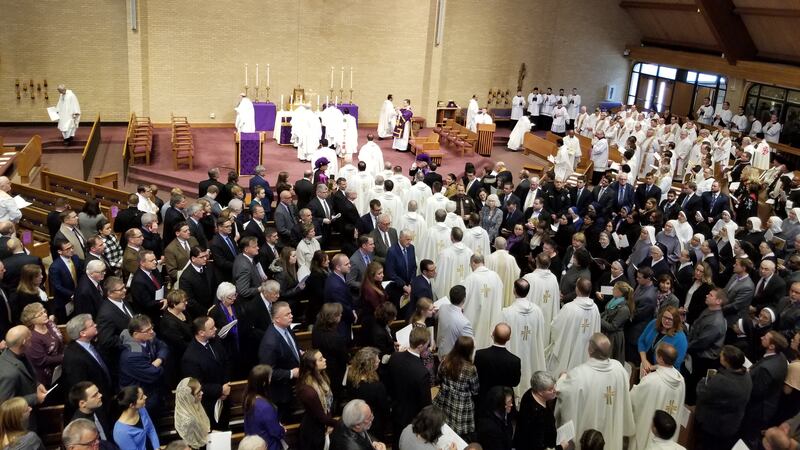 Published: Dec. 4, 2018 at 5:32 PM CST
For 15 years, Bishop Robert Morlino led the Diocese of Madison. On Tuesday, he was laid to rest at Resurrection Cemetery, more than a week after his death.
Morlino passed away on Wednesday, Nov. 24 after a heart attack. On Tuesday morning, people packed St. Maria Goretti Catholic Church to say their final goodbyes.
"Today is a great, sad day. It is a great day for our bishop and a sad day for the rest of us," said Tony Butler, a parishioner at the funeral mass.
It was a day of mourning for the diocese, but some people said they find joy in their memories of the bishop and his personality.
"He was joyful. He always smiled, it was always in his eyes, joy and love. He was a joyful, warm person," said Susan Vanderscheuren, another parishioner.
Others said they will remember the bishop's example of love, even in the face of controversy. During his time as bishop, Morlino faced some opposition, especially to his views on same-sex marriage and the LGBTQ community.
"He was willing to fight with just love. I wanted to fight with pitchforks and swords and no, we don't do that, we fight with truth and smile," Butler said. "He would invite enemies and say come eat, let's find one common thing and let's build on that."
Vanderscheuren also said Morlino brought beauty and reverence back to the mass.
"He reached something deeper within you and he was such a father and a shepherd, but to guide you a path to God, the biggest meaning of our lives, so he was huge," she said.
Another priority of Morlino's was recruiting more men to the priesthood. While he was bishop, he ordained 40 new priests. Butler thinks Morlino was able to connect to young people -- and this helped draw young men into the priesthood.
"Young men said oh look, here's a devout, celibate old man who has his finger on the pulse and can really bring us all up to a higher level," Butler said. "See these young men who are just willing, in a very difficult time, they're willing to follow in that mission and search for the divine truth."
Many people also said Morlino helped deepen the community's faith. Butler thinks this is his lasting legacy.
"Twenty, 50 years, 100 years from now, you're going to see a real renewal of the church and he was the catalyst for it, he started that," Butler said.
A new bishop of the diocese has not yet been named. After Morlino's death, Monsignor James Bartylla was elected diocesan administrator.