Broadway in Baraboo 'Ajijaak On Turtle Island'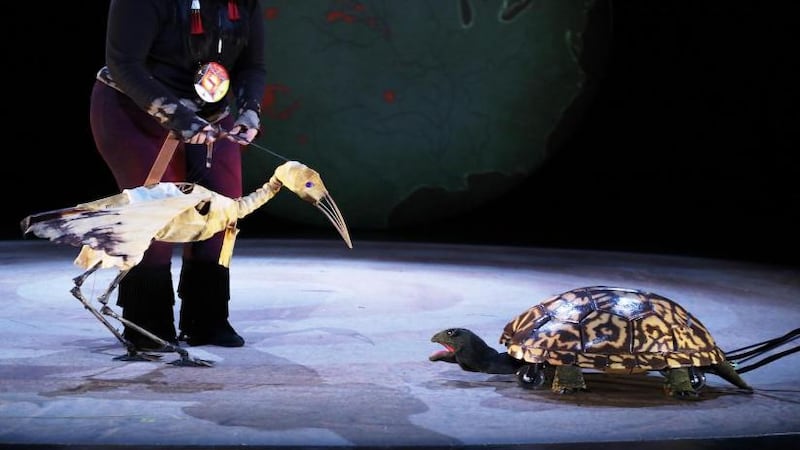 Published: Jan. 15, 2019 at 4:51 AM CST
Jim Henson created the Muppets and Fraggle Rock, but now his daughter is stealing the stage with her theatrical Broadway spectacle 'Ajijaak On Turtle Island.'
Heather Henson's creation tells the story of Ajijaak, a young whooping crane separated from her parents and goes on her first migratory journey alone from Wood Buffalo to the Gulf of Mexico. She encounters many Neo-indigenous communities along the way and theatergoers get to learn about these communities through puppetry, traditional dances, animations and kites.
And Heather chose to bring the production to Baraboo because she is a member of the International Crane Foundation which was founded in Baraboo. Cranes are also an artistic inspiration for Heather.
The musical was written and co-directed by Ty Defoe who is a Wisconsin native and attended the Indian Community School in Franklin, Wis.
The tour of this show is only playing in three other cities, New York, Chicago and Providence.
If you want to see the breathtaking puppet creations designed and fabricated by The Jim Henson Workshop, some towering over 20 feet high, the show plays at the Al Ringling Theater January 24 and 25.
Tickets are $55 and $75 for main floor seats. Also, while in Baraboo the show is offering two complementary matinee performances for students in Dane, Sauk and Columbia counties.
To learn more about tickets, the show and the upcoming performances:
.