Community plans vigil after fatal mill explosion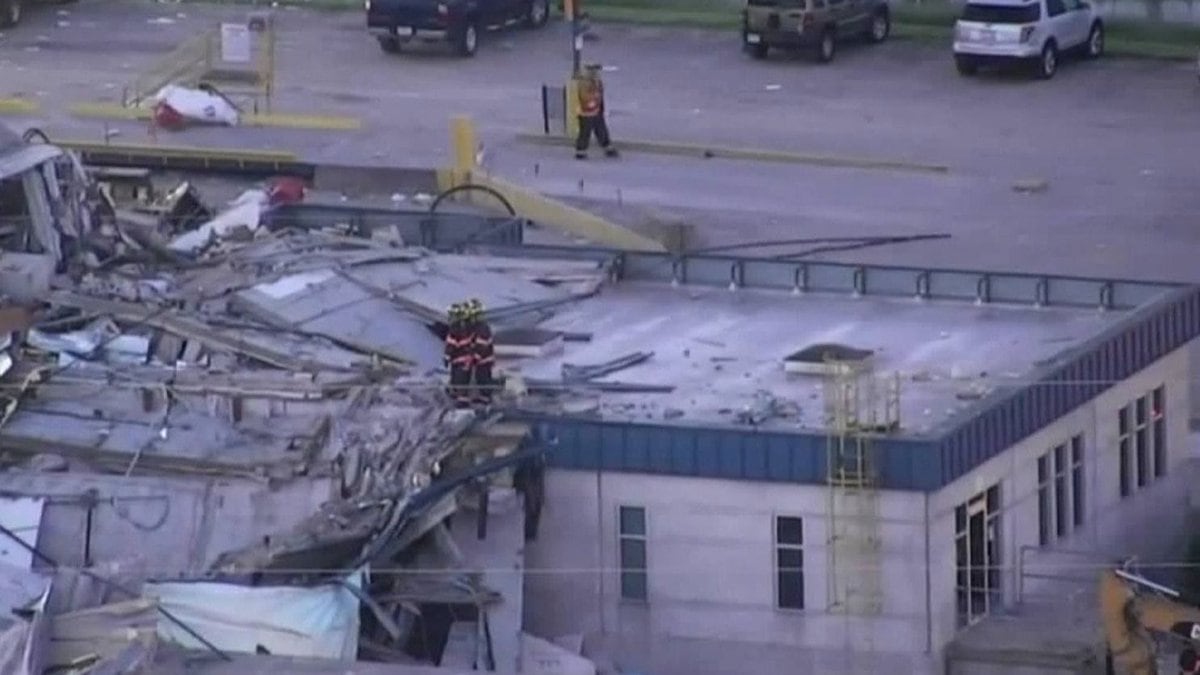 Published: May. 31, 2017 at 11:22 PM CDT
CAMBRIA, Wis. (AP) -- Community members in a southern Wisconsin village will hold an evening vigil to mourn the loss of life and injuries from a corn mill explosion.
The village of Cambria said in a news release Thursday that people plan to meet at 7 p.m. Thursday at the First Presbyterian Church to pray for victims of the explosion and fire at the Didion Milling Plant. At least one person was killed and a dozen injured in the blast.
Two people who were in the mill at the time remain missing.
The church has become a gathering spot for family members of the victims and volunteers. The release notes that Pastor Kristin Frederich will speak before the vigil about how people can help. A benefit fund has been established.
-------------------------------
CAMBRIA, Wis. (AP) -- A southern Wisconsin school district that shut down after a nearby corn mill exploded plans to resume classes on Friday.
An explosion at the Didion Milling Plant in rural Cambria late Wednesday night killed one person and injured a dozen more. The fire was contained early Thursday but Cambria-Friesland School District officials elected to keep kids home for the day.
Superintendent Timothy Raymond says early childhood through 12th grade is housed in one building about an eighth of a mile from the plant. He says the district decided to shut down Thursday as a precaution in case the fire wasn't completely extinguished.
Didion employs more than 200 people from around the area. Raymond says his district and surrounding districts plan to coordinate on supplying counselors if students need them on Friday.
---------------------
CAMBRIA, Wis. (WMTV)---16 people were in the Didion Milling facility at the time of the explosion on Wednesday night.
According to the Cambria Village Office, an explosion happened at 501 South Williams Street in Cambria around 11:00 p.m.
City officials said one person has died, two of the employees were treated and released, and 11 employees were transported to the hospital by ambulance, Med Flight and Flight for Life. Two people are believed to be missing.
23 fire departments, two Med Flight responders, two Flight for Life responders, eight EMS services, 4 police departments, county and state departments, Red Cross, Salvation Army and other groups that rendered assistance were on scene.
Copyright 2017: WMTV
-------------------------------------------------------------------------------------
CAMBRIA, Wis. (AP) -- The Wisconsin corn mill where an explosion late Wednesday killed at least one worker was cited by federal safety investigators six years ago for exposing workers to dust explosion hazards.
Records from the U.S. Occupational Safety and Health Administration show that Didion Milling Plant in Cambria was cited in January 2011 for exposing workers to hazards associated with dust explosion and other fire hazards. The records say filters in the plant lacked an explosion protective system.
OSHA ordered the mill to correct the problem by April 2011. The records show Didion paid a nearly $3,500 fine and the case was closed in September 2013. OSHA hasn't cited the plant for anything since.
Didion officials didn't immediately return messages from The Associated Press on Thursday. OSHA has launched an investigation into Wednesday night's blast.
Authorities say two workers are still missing and about a dozen other workers were injured.
------
CAMBRIA, Wis. (AP) -- Hospitals in southern Wisconsin are treating at least 10 people who were injured in a deadly explosion at a corn mill.
Authorities said Thursday that an explosion and fire late Wednesday at the Didion Milling Plant in Cambria killed at least one person and injured about a dozen others. The small community is about 45 miles northeast of Madison.
Divine Savior Hospital spokeswoman Haley Gilman says the hospital in nearby Portage received six people injured in the explosion. She says one was transferred to the burn unit at the University of Wisconsin Hospital in Madison, one was admitted to the intensive care unit and four were treated and released.
University of Wisconsin Hospital spokeswoman Emily Kumlien says five people were air-lifted to her facility. She says four are in the hospital's burn center, while the fifth is in the hospital's trauma and life support center. She declined to release further details.
--------------------
UPDATE (WMTV) - UW Hospital has five patients from the explosion that were airlifted to the hospital, according to UW Health Communications.
Four of the patients are in the burn center and one is in the trauma and life support center.
Copyright 2017: WMTV
-----------------------
CAMBRIA, Wis. (AP) -- Recovery crews are searching a mountain of debris for two missing employees after a fatal explosion at a corn mill in southern Wisconsin.
Columbia County sheriff's officials say the explosion and fire at the Didion Milling Plant killed at least one person and injured about a dozen others.
The blast was reported around 11 p.m. Wednesday. Sheriff Dennis Richards says 16 employees were working at the time, and two remained unaccounted for on Thursday morning.
The blast leveled the corn milling structure at the Didion complex in Columbia, a village of about 770 residents roughly 45 miles northeast of Madison.
Some concrete storage silos are damaged but remained standing.
Village President Glen Williams says about three dozen police, fire and rescue agencies responded to the explosion at the complex, which processes corn for ethanol and other industrial uses.
There was no immediate word on the severity of the injuries or what may have caused the blast.
-------------------------
CAMBRIA, Wis. (UPDATE) -- Columbia County Sheriff's have confirmed that one person has died in the Didion Milling plant explosion. The explosion happened around 11 Wednesday night. Officials say there are multiple injures, many were transported to local hospitals with serious injuries.
There were 16 people in the building at the time of the explosion. At this time one person is dead and two people are still missing. Two others escaped the building without injury.
Crews are working to make sure the building is stable enough to continue searching for the missing workers.
We will continue to have updates throughout the morning as more information becomes available.
Copyright 2017: WMTV
----------------------------------------
CAMBRIA, Wis (WMTV) -- Columbia County communications says they are responding to reports of an explosion and fire on Williams Street in the Village of Cambria.
We will continue to update you as more information becomes available.
We have a crew on the way.
Copyright 2017: WMTV
A spokesperson from the Cambria-Friesland School District said they will have school and graduation on Friday.
Anyone interested in making a donation to help the victims and their families, please send your checks to:
Old Mill Foundation Didion Benefit Fund
%National Exchange Bank
118 West Edgewater Street
P.O. Box 338
Cambria, Wisconsin 53923
These funds will go directly to assisting those affected.
Didion Milling is a family owned agricultural processing business located in the heartland of Wisconsin. For more than 40 years Didion Milling has been storing, milling and transporting corn products giving them the expertise that has helped them become a trusted leader in the industry today. Their success is based on the ability to add value to corn, enhancing customers operations and enriching the lives of customers.