All lanes reopen after 29-vehicle crash on Hwy. 151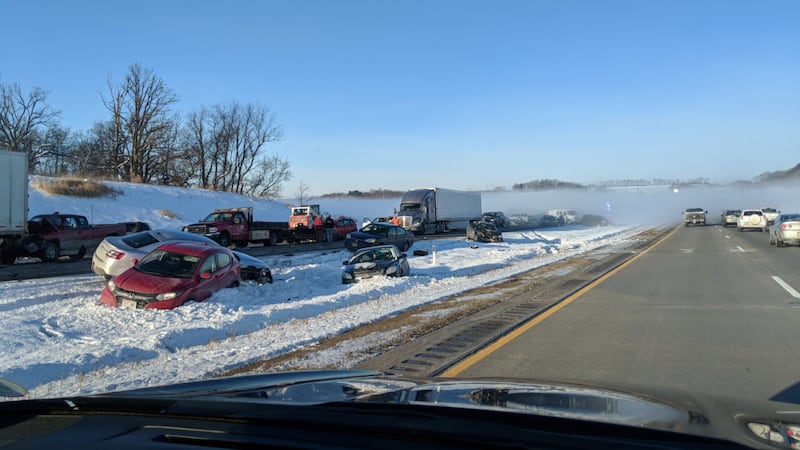 Published: Feb. 12, 2018 at 8:26 AM CST
Poor visibility due to heavy patches of fog is believed to be a contributing factor to a crash that left a 53-year-old woman dead in a crash in the Town of Verona on Monday morning.
Elise Schaffer with the Dane County Sheriff's Office said the multiple-vehicle crash happened on U.S. Highway 151 just east of
State Highway 69 in the Town of Verona. As many as 29 vehicles were involved in the crash that happened just before 8 a.m.
"Heavy fog and speed are the contributing factors that we're looking at. People reported in the area that you could not see ten feet in front of you when this happened," Schaffer said.
Sheriff officials said uninjured occupants and motorists from the crash scene are being transported to the Verona Fire Department. Family members should report there to make contact with their loved ones. They shouldn't go directly to the crash scene.
Verona Fire Chief Joseph Giver told NBC 15, "It was first reported as a two car accident, is what we understood it to be and then when we got to the scene it was clearly much more than that."
Because initial first responders thought they were responding to a smaller incident, they were spread thin until more help could arrive.
"We're going to need a lot more help. That was the first thing that came to my mind...Initially it was pretty chaotic, as well, because, you've got four guys and you've got a huge area to cover, and to find out who is the most injured," said Giver.
Adam Barr was driving westbound at the time of the incident and witnessed cars impacting other vehicles. He also describes a chaotic scene.
"I probably saw close to a dozen people out of their cars. There were people walking around the check on other people, other drivers. There were people that looked like they were trapped under cars. People had gotten out of their cars that had some head trauma, and they were just sort of sitting on the car or leaning on their car," Barr stated.
Barr said the fog was only present for a few minutes.
"It was really isolated. I've never seen fog that was so dense and covering such a small area and that was in and out so quickly."
Chief Giver also said that when his crew arrived just a few minutes later, the fog was already gone.
"There was no fog or anything at the time, but apparently for a short period of time there was pretty significant fog across the highway."
Eastbound lanes of U.S. Highway 18/151 were shut down for about nine hours while officials investigated the incident. The lanes reopened around 4:45 p.m.
Anyone who may have witnessed the crash is being asked to call the Dane County Sheriff's Office tip line at (608) 284-6900.