Madison Symphony Orchestra offers concert of 'Epic Romance'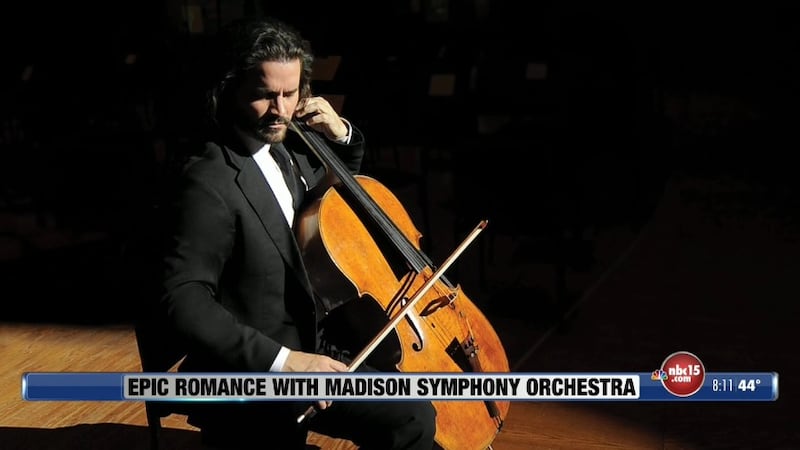 Published: Oct. 14, 2018 at 10:54 AM CDT
Experience award-winning cellist Zuill Bailey's Madison Symphony Orchestra (MSO) debut.
Renowned guest conductor Tania Miller leads the MSO while Maestro John DeMain makes his debut at the Teatre Liceu in Barcelona, conducting Candide in celebration of the 100th anniversary of Leonard Bernstein's birth.
Michael Oesterle's Home opens each concert, followed by Edward Elgar's solo Cello Concerto performed by Bailey, and Pytor Illyich Tchaikovsky's Symphony No. 5 in the second half of the program.
Performances will be held on Friday, Oct. 19 at 7:30 p.m., Saturday, Oct.20 at 8:00 p.m., and Sunday, Oct. 21 at 2:30 p.m. in Overture Hall, located at 201 State St.
Michael Oesterle's Home had its world premiere in November 2017 with the Royal Conservatory Orchestra and conductor Tania Miller. The piece is a homage to the great geographical ebb and flow of humanity, also known as the immigrant experience.
Oesterle notes, "I wrote it through the filter of my personal impressions as an immigrant, and with the realization that this subject is humbling in its breadth."
Cello Concerto was Edward Elgar's last notable work, composed in 1919 in the aftermath of WWI. Upon regaining consciousness following a 1918 tonsillectomy, Elgar immediately asked for pencil and paper and wrote down the melody that would become the first theme in this concerto. Despite today's renown as a crowd favorite, the piece did not achieve wide popularity until the 1960s, when a recording by Jacqueline du Pré caught the public's attention, and it became a classical favorite.
Composed between May and August 1888, Tchaikovsky's Symphony No. 5 was first performed in St. Petersburg at the Mariinsky Theatre with Tchaikovsky conducting. Unlike its two predecessors, there is no known program for the Fifth Symphony, save for a recurring main theme heard throughout all four movements. Over the years this theme has become known as the "fate" motive; its original ominous character undergoes various metamorphoses, emerging triumphant in the score's concluding pages.