Quiet Santa offers an alternative for kids with special needs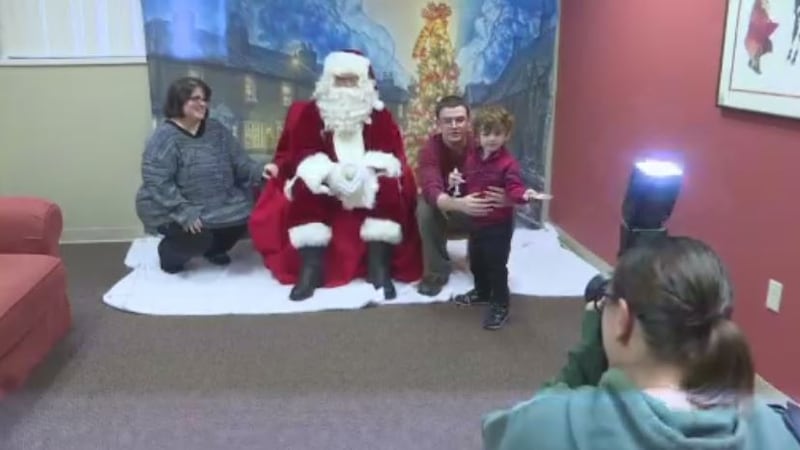 Published: Dec. 4, 2016 at 10:12 PM CST
MADISON, Wis. (WMTV) --- A group decided to help children who find visiting Santa at a crowded mall overwhelming.
On Sunday, as the snow sprinkled down on Madison, families followed a candy cane ribbon and found Santa visiting from the North Pole.
He was visiting to take pictures, but it wasn't in a mall setting with the hustle and bustle of long lines. Instead, it was in a playroom.
A traditional trip to the mall to sit on Santa's lap can be overwhelming for kids with autism and other special needs. That's where this Santa comes in.
"I want him to experience everything I experienced as a child," said Sara Sanchez, of her son Felix.
The Sanchez family and Fedora family visited Quiet Santa on Sunday. They share similar past experiences when visiting Santa at the mall.
"Malls are crowded, loud, flashing lights. So he would become distressed at the mall," Sanchez said.
"Emily has a hard time waiting in line. So we've been to the mall a few times when she was smaller and it was really just a struggle," Tina Fedora said.
With the assistance of Santa's helpers, kids were able to share quality time with Santa at their own pace.
Julie Sheldon is the co-organizer of Quiet Santa. She says her brother saw Quiet Santa visiting the east coast, and they decided to call Quiet Santa to Madison.
"We wanted to create something that was a little less stressful, a little more personalized and hopefully very memorable for families," Sheldon said.
And for Sheldon, it's the smiles from families, that make it all worth it.
"Sometimes we see more emotions coming from the parents than the kids because they can't believe this is happening," Sheldon said.
The event was made possible by volunteers and it was free for families.
Copyright 2016: WMTV