Series of fights break out at Verona High; students arrested, others injured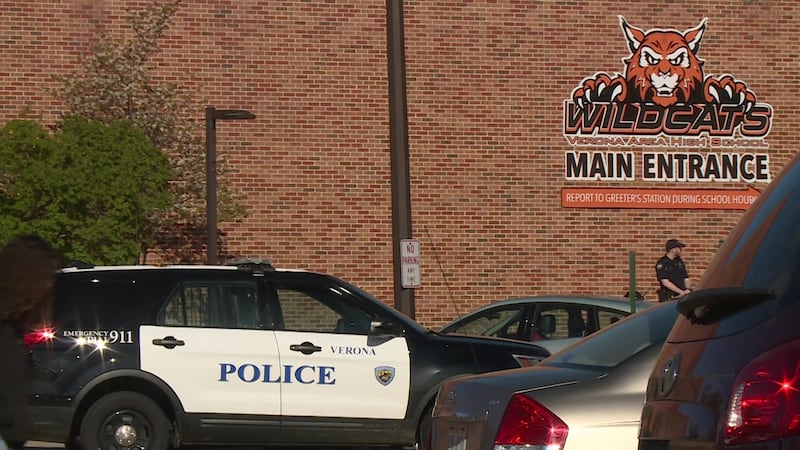 Published: May. 9, 2019 at 8:36 PM CDT
46 parents said they kept their students attending Verona Area High School home due to safety concerns ,according to the spokesperson for the Verona Area School District.
This comes after three separate fights broke out at the high school Thursday.
"A lot of kids are scared. You should go to school and not be scared of what is going to happen," one parent told NBC15.
The Verona Police Department said officers arrested three teenagers after three fights broke out at Verona High School Thursday, which left two other teens and one adult injured.
Kelly Kloepping, the spokesperson for the district, said on an average day, anywhere from 60 to 80 students are absent, however, on Friday around 260 were absent without being excused by a parent.
Corey Saffold, the school's security coordinator, said they regularly train students and staff to respond to these types of incidents.
"We separate, we isolate the students that are involved. Sometimes VPD comes to help us out, and from there we will slow things down and investigate and figure out what happened and how might we improve or prevent it from happening again," he said.
Verona police said a fight broke out in the school's commons area around noon. According to police, it appears that a small group of students fought each other while a larger group of students watched around them. Staff quickly ended the fight.
According to a Verona Police report, about an hour later, staff reported a "large fight" in a hallway near the Performing Arts Center. An officer had to physically restrain a student who was resisting, and called for backup over the radio. A large police response followed.
The report states, soon after, several upset parents entered the school and began to threaten staff and create a disturbance.
Police said during this time, a student kicked a school liaison officer, and another teen was taken to the hospital after suffering a medical emergency trying to break up one of the fights. Police said, just before 3 p.m. Thursday, staff called an ambulance to Verona High to help another student injured in the fight.
According to the report, two more teens were detained, one for punching a police officer and another believed to be a "primary aggressor" in a fight.
The Verona Area School District issued a statement to parents following the incident.
The statement reads in part, "Student and staff safety is our number one concern as we continue to keep families informed about incidents at school that we believe you would want to be informed of."
The statement details a "classroom hold" policy was in place during the time of the fights, which restricted students to their classrooms as the situation was handled.
According to the VASD statement, the students involved in the fights were suspended until further notice.
Students who initiated an on-going conflict on social media were also suspended.