Veterans bike to Madison on their 500 mile journey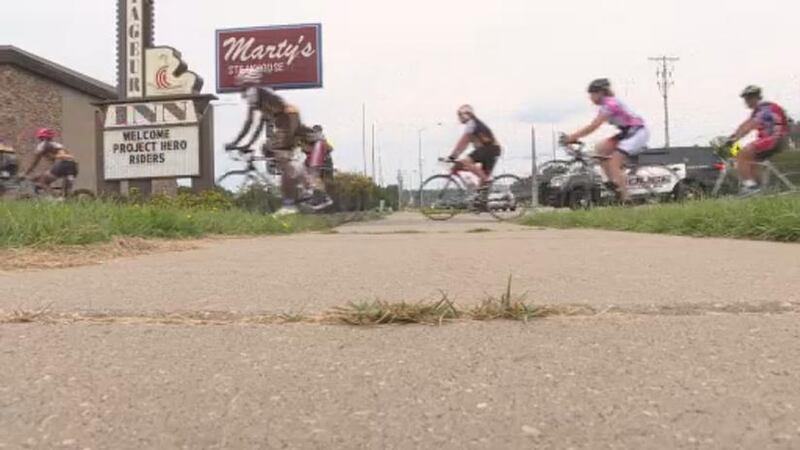 Published: Aug. 9, 2017 at 8:29 PM CDT
REEDSBURG, Wis. (WMTV) -- More than 100 veterans from across the country are riding their bikes from Minneapolis to Chicago. Their mission is to help veterans and first responders with PTSD and other injuries.
Jonathan Dade is a veteran from Texas and says it's therapeutic to be around other veterans who have been through similar experiences. He says being part of the Project Hero organization has changed his life.
"Unfortunately, I have seen some things I really wish I didn't see in the military. One of my friends in 2011 recognized that I was struggling. I was gaining a lot of weight and just not doing well emotionally. So, he recommended I do one day of a ride and I was only able to make it one day. I wasn't able to do a full week. The following year, I trained to the point that I was able to do a full week," said Dade.
Dade is now a full-time minister. He says that after struggling with anxiety, he wants to give back. One way he is doing that is by being a Chaplain during the Project Hero ride, providing spiritual support on the 500 mile journey. A Project Hero spokesperson says communities have been very supportive as veterans ride through their neighborhoods, and they are hoping for the same turnout on Thursday.
"We hope that everyone will come out and cheer us as we come into Madison, wave flags and be part of the celebration, because it means a lot to these veterans. It really shows the veterans themselves that the community is out to support them and it's a tremendous opportunity for them to relate to all to the local communities," said Peter Bylsma.
The group will leave the Voyageur Inn in Reedsburg Thursday at 9 A.M. They are expecting to get to Madison Thursday around 3 P.M. They will be rising to the Best Western on University Avenue.Organizers are hoping that the public will come out in full force to welcome the veterans to Madison.
Copyright 2017: WMTV