Warner Beach redesign in the works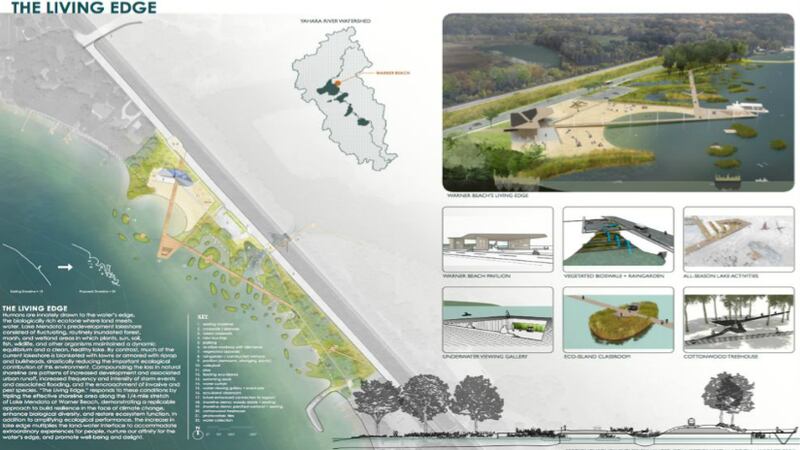 Published: May. 2, 2018 at 7:27 PM CDT
When people think of Madison, one might think of the Capitol, UW Madison, or the lakes. But do people think of beautiful beaches? Probably not.
The Clean Lakes Alliance is aiming to change that starting with Warner Beach.
"It's just not great," Clean Lakes Alliance spokesperson Adam Sodersten said.
Thanks to a grant from the Madison Community Foundation, the Clean Lakes Alliance hosted a contest asking amateur and professional designers to come up with plans for Warner Beach that focused on improving water quality, sustainability, community access, and place making to promote community health, happiness and well being.
$15,000 came from the 75th Anniversary Year of Giving grant.
The first place winner receiving $10,000 was MSR Design of Minneapolis, Minnesota with "The Living Edge" by Susan Olmsted, Patrick Lynch, Tracy Lesneski and Paul Melborn.
Second place went to Edgewood College Social Innovation and Sustainability Leadership Program with "The Great 58." Members Elizabeth Cwik (AIA, BWZ Architects), David Danforth (Danforth Illustrations), Johanna Golden, Halie Tenor, Nyra Jordan, Michael Weber, Jay White, Amanda Wilson and instructor Carrie Sanders won $4000 for their submission.
Third place went to Saiki Design of Madison with "Warner Beach — A Case Study in Urban Ecotones." Members Joe Porter and Tom Martin earned $1,000 for their entry.
"We are trying to get people to want to bring their families out here," Sodersten says," but that is going to take some work."
Madison Parks will take all designs submitted and will gather community input starting this fall. The parks division hopes to gain approval for changes from the Board of Park Commissioners early next year with project implementation starting sometime in 2019.